Having ambitions and staying true to yourself is a great way to push through limitations or overcome obstacles that inevitably come up in daily life. But let's be real, not everyone has an army-like discipline and willpower made of steel. Everyone experiences moments of weakness from time to time and struggles with the motivation to do what's right. While being a lone ranger might sound heroic and inspiring, as humans we thrive on communication and the sense of togetherness. We need to spend time around people, interact or just have someone to share our successes and concerns with. Ironically, we'll often work twice as hard to make someone else happy than we would ourselves (or at least to prove something).
Quite literally, external accountability means being obliged to meet certain expectations or report to someone. It can result from having relationships or agreements with others and is based on such values as respect, integrity, reliability, and trustworthiness. In other words, being accountable to others means respecting them and being true to the commitments you have made, which is totally different to being driven by your own values and ambitions. Having someone you don't want to let down is a great way to boost motivation when you're not feeling like it. Often, that is all that's needed to remain consistent. Which is why being a part of a peer group, a training squad, or simply having a training partner, is a more effective and enjoyable way to train. Especially when others play the game harder than we do.
And that's where the power of a team is—it pushes an athlete to become the best version of him or herself while also supporting when that person feels down. We don't need to struggle in an attempt to achieve everything on our own. In fact, those who have the courage to leave their ego aside will notice that the result of a team effort is always much greater than that of an individual. Creating a circle of people that will accept, support, and challenge us is very powerful, because those who we spend time with influence who we become. It makes the experiences that we have in life more substantial and worthwhile. If we want to achieve our goals, we need to be around people who can help us make it happen—we need to make them part of our team.
Sharing our goals with people we trust adds an additional level of accountability. Which is why a team is not necessarily a formal group, but rather a support system we create for ourselves. One of the reasons why working with a coach or having a mentor is so effective is that being accountable to someone who believes in you is a powerful motivator. Often, it's the people that we respect that we do not want to let down. A mentor and a coach are invested in our success, both as an athlete and a personality, and are valuable members of our support team. They want us to realize our potential and are willing to offer their time, knowledge, and experience to help us achieve that.
A meaningful journey is a shared journey. Involving others in whatever we do makes the experience more than just about ourselves. People go through similar experiences in life and are looking for like-minded people to associate themselves with. There's a high chance someone is facing the same problem and needs support. Or vice-versa, can offer it. A great way to leverage the power of external accountability is to let people follow your progress. Launch a like-minded well-being community and lead personal transformation by example. Or start a public blog and post consistently in it. Sharing your journey with others or just making it public may seem scary at first. 'Am I worth it? How will people react? What if they make fun of me?' But those fears are just that—fears, nothing more. The purpose of stating our ambitions to others is to let people challenge and support us. To make them part of our team and make the experiences we have in life more enjoyable and meaningful.
The above is an excerpt from The Resilient Athlete by Andrejs Birjukovs. For more information on optimizing your mind, body and self as an athlete, check out the book wherever books are sold.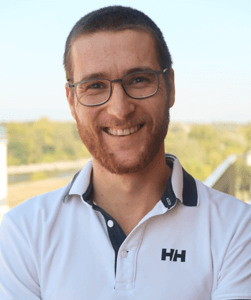 Andrejs Birjukovs is a certified coach and multisport athlete with a background in swimming, kayaking, marathon and trail running, as well as long-distance triathlons. Throughout his professional athlete and coaching careers, Andrejs has learned the value of reinventing oneself through physical exercise and lifestyle changes. He is an IRONMAN certified coach and runs The Athlete Blog where he shares his training and coaching experience with the world. He is the author of The Resilient Athlete.