Whether you work out in the morning or the evening probably depends on your schedule and what you feel works best for you. Ultimately, there's no real answer to what time of day is best for working out, because everyone lives with different biological and environmental circumstances.
That said, there are pros and cons that come from working out during different times of the day. For example, in the morning you might wake up feeling energized, while in the evening you feel burnt out from work. In contrast, in the morning your muscles may be stiff, whereas in the evening they are warmed up and ready to get fit.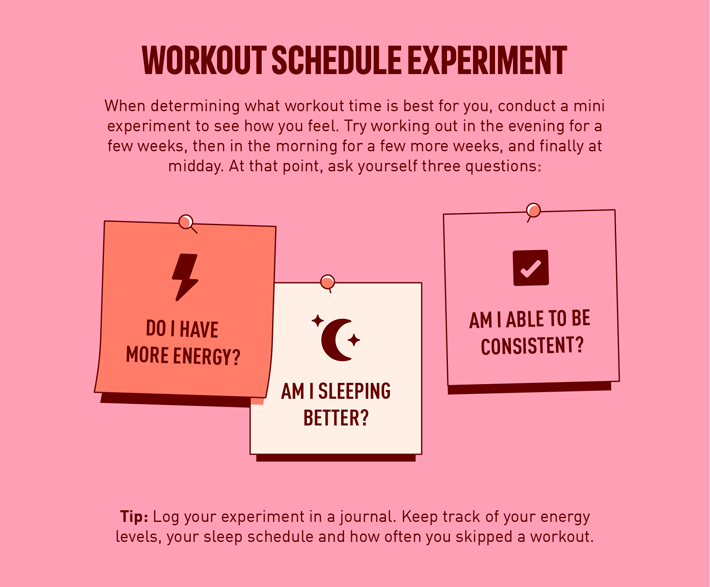 To help you decide what time of the day is optimal for your workout sessions, below we've outlined the benefits and drawbacks of working out in the morning and the evening.
Morning Workouts
While morning workouts aren't for everyone, they yield an assortment of benefits. For example, some of the advantages of working out in the morning include:
Energy: Morning workouts leave you feeling energized and ready to face the day.
Testosterone: Your testosterone levels are higher in the morning, meaning that it could be easier to handle intense workouts.
Routine: Exercising in the morning can be the perfect morning routine to build momentum for the rest of the day. Morning runs can do wonders for your energy levels throughout the day. Just make sure that you have the appropriate women's running shoes on hand!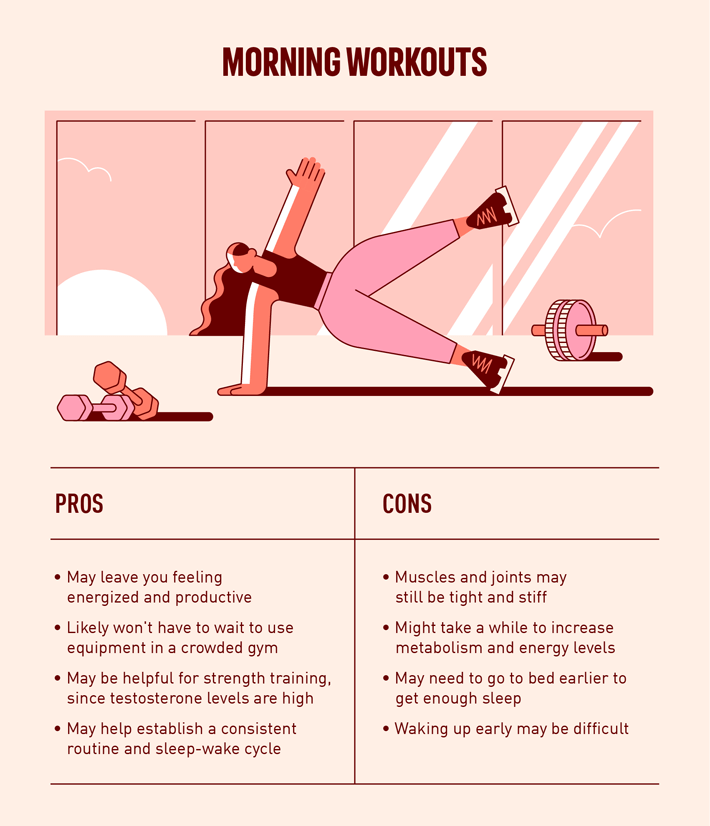 Working out in the morning, however, isn't always the best move. While getting your blood flowing in the morning can be the perfect way to start off the day for some, for others the drawbacks outweigh the advantages. Some of the drawbacks of morning workouts include:
Stiffness: When you first wake up, your muscles may feel tight and stiff, making it difficult to get into the flow of exercise.
Waking Up Early: If you need to wake up early to get your exercise done before work, it could be difficult to get out of bed at all.
Sleep: Waking up early for your workout could mean you don't get enough sleep. This could require you to go to bed earlier.
Evening Workouts
Some people swear by working out in the evening. An after-work exercise can be just the thing you need to blow off some steam and relieve stress after a long day. Here are some of the best benefits that come with evening workouts:
Enhanced Performance: Since your muscle temperature is at its peak and your blood is flowing from moving throughout the day, evening workouts could result in enhanced performance.
Stress Relief: As we mentioned before, after a stressful day at work, exercise can be a great way to relieve stress and decompress.
Positive Momentum: If you normally have bad habits such as watching TV after work, exercising can be a great replacement habit that builds positive momentum for the rest of the day.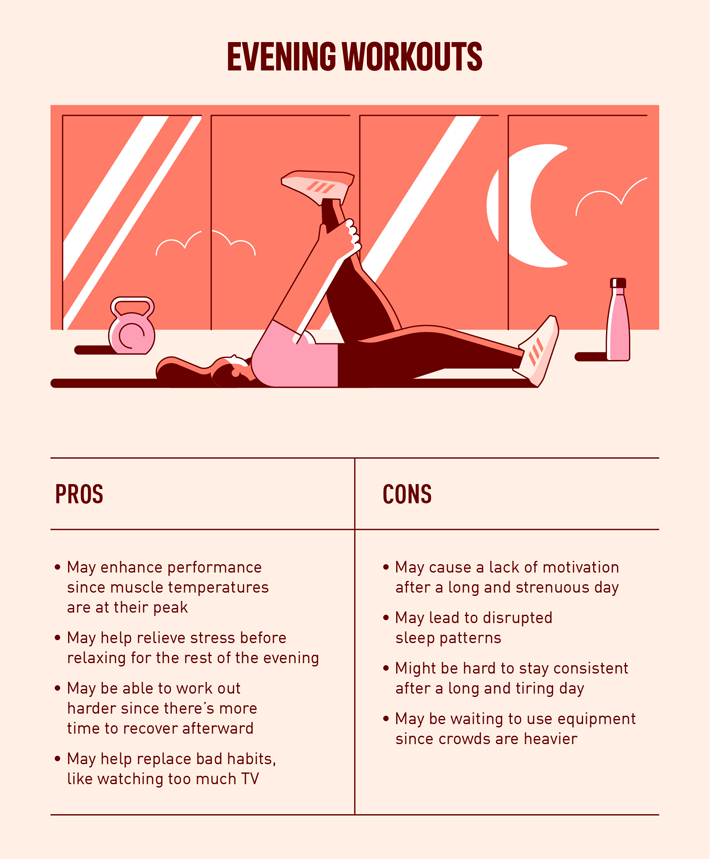 Of course, just like working out in the morning, exercise in the evening also has its drawbacks. This makes sense, given that sometimes the workday can tire people out to the point where they just want to rest and relax upon returning home. Here are some of the biggest disadvantages of working out in the evening:
Lack of Motivation: After work, particularly if you work a physically demanding job, working out may be the last thing you want to do.
Disrupted Sleep Patterns: Working out gives you a boost of energy that could keep you awake at night, leaving you groggy and tired the next day.
Workout Equipment Lines: Since people often work out in the evening, if you're going to a gym, you may have to wait in line before you can use the equipment you need. This can be frustrating and make your workout take longer than it needs to.
Conclusion
The best time to work out in a day varies from person to person. To decide when you should exercise for optimal results, weigh the pros and cons of morning and evening workouts. You may even want to do a trial run where you test how it feels to exercise at different times of the day.
Remember, the most important thing about exercising is to remain consistent. For this reason, it's important to choose the time of day that works best for you and your schedule. For more information about when the best time is to exercise, check out the infographic below.
Rhett Rivera is a content marketer at Siege Media that specializes in digital communications. He graduated from California State University, Fullerton with a Bachelors of Arts in Communications Studies with an Emphasis on Public Relations. During his time at university, he headed the outreach committee as Vice President of Outreach for the Public Relations Student Society of America.