One in 10 individuals will suffer from kidney stones at some point in their life. Composed of hard, painful mineral deposits forming inside the kidneys, these stones are both crippling and potentially chronic. Thankfully, patients can take action to reduce their chances of developing or redeveloping kidney stones by following a good diet, observing proper self-care, and adopting a comprehensive wellness plan. To that end, Living with Kidney Stones offers the most up-to-date information on this illness, paired with heartfelt insight from an actual kidney stone sufferer. Author Samantha Bowick has also written several articles to highlight all the important information one needs to know including the one below about how best to cope with kidney stones.
Coping with Kidney Stones
Have you ever had a kidney stone? A kidney stone is a hard deposit that forms in the kidney from excess substances that are found in the urine. The pain can send you to the floor in an instant and is unforgettable.
Having a kidney stone can be extremely stressful and difficult to cope with. Being diagnosed with a kidney stone—along with everything else that comes with having the disease—is overwhelming, especially without proper coping skills.
Coping mechanisms that I have found to be helpful while battling a kidney stone include:
1. Taking time for myself when I feel run down
2. Yoga/meditation/exercising (when able to)
3. Eating healthier (when able to)
4. Writing in a Gratitude Journal every day
5. Going to counseling
6. Trying not to isolate myself from others when in pain
7. Talking to others who have experienced a kidney stone
8. Asking for help when I need it
9. Reading, writing, coloring, arts and crafts, sewing (i.e., things that do not require a lot of physical exertion)
10. Praying/reading the Bible
11. Taking baths to relax
12. Connecting with people who have always been there for me
There are many more ways to deal with this. The most important thing to keep in mind is to do what you feel you can do. Always consult your doctor as needed.
For more articles and information on kidney stones, please click here.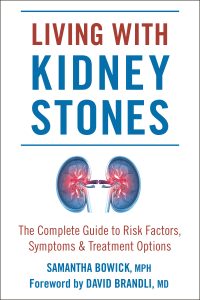 Samantha Bowick has a Master of Public Health degree from Liberty University. She received a Bachelor of Science degree in Health Care Administration at Columbia Southern University. She is devoted to using her education and experiences to advocate for people who suffer with endometriosis and other chronic illnesses. She currently lives in Aiken, South Carolina. She is also the author of Living with Endometriosis and Living with Alpha-1 Antitrypsin Deficiency.