A good number of people, while they take care of themselves physically, let their mental health take a backseat. It's important to remember that your mental health can be just as important as your physical health. This is why mindful running is such a powerful tool for a more holistic approach to overall health and reconnecting with yourself and your body.
Why Should I Run Mindfully?
Firstly, running has its own physical benefits, like improving heart health and burning calories. Pairing that with a sense of mindfulness can be incredibly beneficial.
If you're facing any sort of anxiety, or just want to recover from life's stresses, you may find some relief from mindful running. Not to mention that mindful running can improve your mental health as a whole and sharpen your memory.
As said before, mindful running's physical benefits speak for themselves. It's always good to get your blood flowing and your heart pumping. Just be sure to stay within your limits, don't overwork yourself.
Getting the Most Out of Your Mindful Run
Like any other run, you'll want to be prepared before you go out for it. Get into the right state of mind, put on a pair of running shoes and follow these steps.
Make a plan: Don't go out without coming up with a plan first. What are you hoping to accomplish on this run? How are you trying to feel?
Practice mindful breathing: Take deep, controlled breaths before going out and running.
Take a different route: Going on the same route every day may get boring and stale. Taking a different route will change things up and keep you excited to head out.
Be in tune with your senses: Don't just go through motions on your run. You want to take in everything around you. Stay in touch with yourself and your senses while running.
Remaining Mindful During Your Run
It can be hard to stay mindful on your run, you may run into a number of distractions on the way. Thankfully there are a number of things you can do to stay in a mindful state and get the most out of your run.
Don't start too fast – Your body will need to adjust to this physical activity. Starting off slow can help you warm up and reduce any risk of injury or discomfort.
Focus on your feet – With every step you take, look at your feet. Be aware of your forward progression and keep in tune with your body.
Look at the environment – As stated in the previous section, take in the environment you find yourself in. Focus on the different senses you're experiencing.
Stay in tune with your body – A huge part of keeping in touch with yourself and your body is respecting the signs it's giving you. If you feel pain or discomfort, stop.
Feel your breathing – Focus on your steady breathing if your mind begins to wander.
Don't forget to reflect – Reflect on your run after you've finished. Was it beneficial?
All of these steps and tips for reconnecting through mindful running are included in this animated infographic, complementing this post. A preview of the infographic is shown below.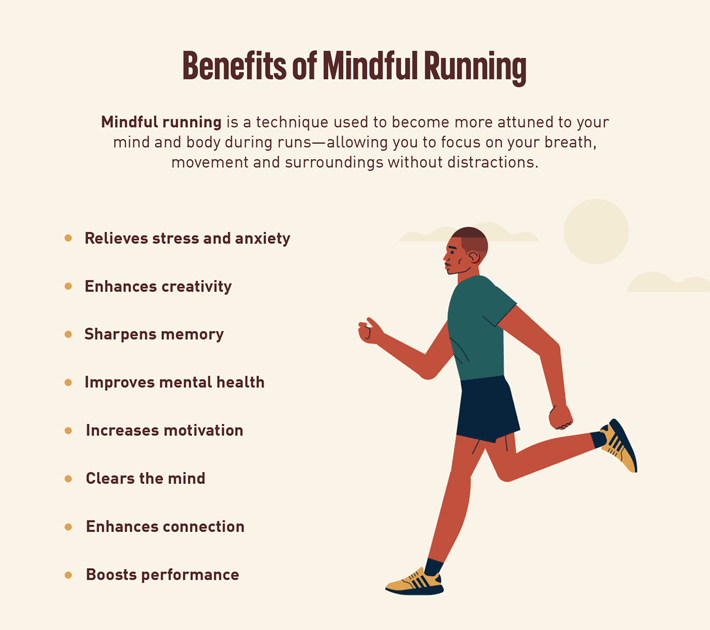 Ray Alonzo is an avid writer from Phoenix. He focuses heavily on research to provide the most accurate information possible to readers.