There is no shortage of attention being paid to the problems of mental ill-health these days. Conditions like anxiety, depression and attention deficit hyperactivity disorder have become a much more common part of general discussion than any point in the past.
Over 280 million people worldwide suffer from depression every year and though there are now more research and increased awareness, it is worth having some sense of understanding of what the symptoms of depression actually are: how does it manifest?
1. Feeling Persistently Sad
The most obvious symptom of depression is that you may be feeling persistently sad. You may be tearful, feeling down or have a sense of emptiness inside.
2. Loss of Interest
Feeling sad often comes with a loss of interest in the things that you normally enjoy doing, such as hobbies or interacting with family and friends. You may just not feel like you want to do anything.
3. Change in Sleep Patterns
Many people with depression have trouble getting to sleep, wake up frequently or early in the morning, but there is a group who experience the opposite: they actually sleep excessively and really struggle to get out of bed.
4. Change in Appetite
In a similar matter, most patients with depression lose their appetite but some can find that it increases, or that they eat excessively as a way of trying to make themselves feel better.
5. Inability to Concentrate
Most patients with depression have some changes in their energy levels and their ability to concentrate. They often feel flat, tired and have trouble focusing on things or staying on task. They may also feel a change in their body: that they just feel slowed down, although they are persistently fidgety and restless.
6. Negative Thoughts
Other important symptoms of depression have to do with the way that patients think. They often get stuck in thoughts that are very negative, for example to do with feeling bad about themselves, guilty about things or hopeless about the future. This can also be associated with thoughts that life is not worth living and some will think about hurting themselves or committing suicide.
If you are experiencing these symptoms, you may be wondering what's next. It is recommended you reach out to your primary care doctor who can better evaluate them and provide next steps including referral to mental health specialists like psychiatrists, licensed clinical social works and other counselors.
For more information on when to seek help for your depression and other modes of treatment, check out this post.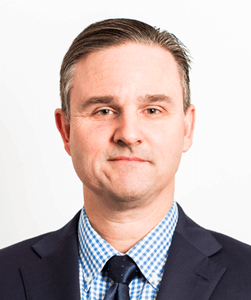 Paul Fitzgerald, PhD, MBBS is Director of the School of Medicine and Psychology and a Professor of Psychiatry at the Australian National University in Canberra, Australia. He completed his Medical Degree at Monash University followed by a Masters of Psychological Medicine and professional training in Psychiatry leading to membership of the Royal Australian and New Zealand College of Psychiatrists. After a fellowship at the University of Toronto, he completed a research PhD in Psychiatry. Paul has conducted extensive research developing new treatments for depression and other conditions while continuing to practice as a psychiatrist and has established multiple clinical services in the provision of new treatment methods. He is the author of Curing Stubborn Depression: Emerging & Breakthrough Therapies for Treatment-Resistant Depression.