Plant Based Cooking Made Easy is the must-have cookbook from Jill and Jeffrey Dalton, the creators and host of The Whole Food Plant Based Cooking Show on YouTube. Plant Based Cooking Made Easy features over 100 life-saving, whole food plant-based recipes that are gluten-free, refined sugar & oil free, low in sodium, and full of scrumptious flavors. Check out this great plant-based version of a Chinese food staple.
One of my family's favorite Chinese dishes has always been Vegetable lo Mein, but when we would go out to a restaurant (assuming we could find a place that would actually make a vegan vegetable lo mein) 20 minutes after eating it, they would regret every bite. The cheap noodles, greasy oil, and heavy handed use of salt would leave them nauseous (it is amazing how much we are willing to suffer to feed a craving), desperately thirsty, and in desperate need of a food nap.
This plant-based, low sodium, oil free version will leave you feeling light and satisfied! Spiralized zucchini (Zoodles) make up the noodle part of the meal and mix perfectly with the red bell peppers, onions, carrots, tofu with a light tasty sauce.
Vegetable Lo Mein
Serves: 4
Prep Time: 30 minutes
Cook Time: 15 minutes
Ingredients
1 (14-ounce) box of extra firm tofu
4 medium sized zucchini (spiralized)
1 red bell pepper, chopped
1 green bell pepper, chopped
1 bunch green onions, chopped
2 carrots, julienned
1 cup low sodium vegetable broth
1-inch chunk ginger, finely diced
1 tablespoon Braggs Liquid Amino Acids (or low sodium soy sauce, or tamari)
1 tablespoon cornstarch
2 tablespoons toasted sesame seeds
Directions
Preheat oven to 400°F.
Drain and cube tofu.
Spread tofu cubes onto a parchment paper lined cookie sheet and bake for 30 minutes.
Add 2 tablespoons of water to a pan and add peppers, carrots, onions, and ginger and sauté for 5 minutes.
Add zucchini noodles and vegetable broth and cook on high for about 10 minutes.
Mix cornstarch with the Braggs Liquid Amino Acids or low sodium soy sauce.
Make a well in the pan and pour in the cornstarch mixture while stirring.
Top with sesame seeds and serve.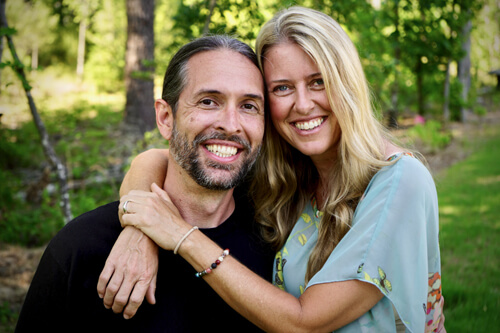 Jill Dalton & Jeffrey Dalton are the visionaries behind The Whole Food Plant Based Cooking Show, a YouTube channel and media platform. The couple knew, after making the switch to a whole food plant based diet and experiencing profound changes in their own health, they needed to share the power of a plant based diet with the world. Together over the past 5 years they have been creating the popular cooking show from their home kitchen in Cary, NC. The Dalton's original recipes, cookbooks, and courses have been used by millions of viewers the world over as they too make the switch to a plant based lifestyle. Jill hosts the show and shares her mastery for creating tasty and easy to prepare recipes that incorporate all of the leading research on plant based nutrition. Jeffrey works behind the scenes writing, designing, filming, producing, and supporting the technical aspects of the show.