Providing vegan alternatives to the sorts of delicious comfort foods that everyone craves, The Dirty Vegan Cookbook, Revised Edition by Catherine Gill makes it easier than ever to live the vegan lifestyle. Self-styled as "vegan junk food"–healthy vegan food that doesn't skimp on taste–The Dirty Vegan Cookbook is a celebration of all the amazing tastes and dishes available to those on vegan diets. Enjoy a recipe featured in the book below!
This recipe was inspired by a muffin I saw in the bakery case at a coffee shop, which a friend of mine would often get with her coffee. I veganized the muffin based on the flavors that she described; having been a former pastry chef and owning my own vegan bakery really comes in handy! When I asked my friend to try my vegan version, she could not believe how much my recipe tasted like the one she would buy at the coffeehouse.
Vegan Pumpkin Cream Cheese Muffins
Serving Size: Makes 1 dozen muffins
Ingredients
1 (8-ounce) container vegan cream cheese
½ cup powdered sugar
1 teaspoon vanilla extract
1 cup sugar
¹⁄³ cup vegetable oil
¼ cup ground flaxseed mixed with ¹⁄8 cup water
1 cup pumpkin puree
¼ cup soy milk
2 cups all-purpose flour
1 teaspoon baking soda
1 teaspoon pumpkin pie spice
¼ teaspoon salt
¼ cup pepitas (shelled, raw pumpkin seeds)
Directions
Preheat oven to 350°F and line a muffin pan with 12 cupcake/muffin liners or standard-sized baking cups.
In a small mixing bowl, combine cream cheese, powdered sugar and vanilla extract and set aside. In a large mixing bowl, combine sugar, vegetable oil, pumpkin puree, flaxseed and water mixture and soy milk.
Combine flour, baking soda, pumpkin pie spice, and salt; add combined dry ingredients to the moist mixture, to make batter. Fill muffin cups evenly with batter.
With the backside of a spoon, make a small well in the center of each muffin batter. Dollop cream cheese filling in the center wells of the muffin batters. Sprinkle pepitas around the top of the muffin, on the batter portion around the filling.
Bake for about 15–20 minutes or until a cake tester comes out clean when poked into the bread part of muffin (not the filled centers).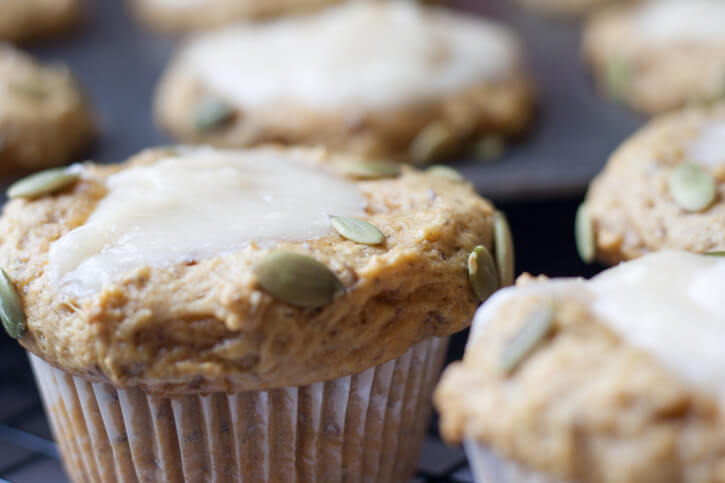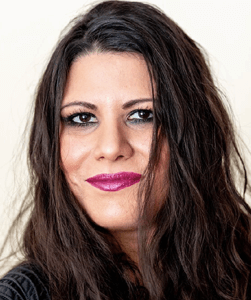 Catherine Gill is a writer, blogger, and holistic vegan chef who specializes in natural and health foods. She studied and found her passion in writing, literature, and social science in college. She runs the popular blog The Dirty Vegan since 2010, focusing on comfort-food-style vegan recipes that are fun, accessible, and healthy. She also ran Dirty Vegan Foods, a vegan bakery specializing in veganized versions of classic desserts. She has an active social media presence with over 28K followers on twitter (@TheDirtyVegan). She currently resides in New England with her husband, daughter, and rescue dog. She is the author of The Dirty Vegan Cookbook.