Plant Based Cooking Made Easy is the exciting new cookbook from Jill and Jeffrey Dalton, the creators and host of The Whole Food Plant Based Cooking Show on YouTube. Plant Based Cooking Made Easy features over 100 life-saving, whole food plant-based recipes that are gluten-free, refined sugar & oil free, low in sodium, and full of scrumptious flavors. Enjoy a recipe featured in the book below!
Zucchini noodles, known in the plant-based world as Zoodles, are a great alternative to regular pasta, especially if you are looking for a gluten free option. They can be used for all kinds of noodle-based dishes and pack a ton of texture and nutrition into this Thai flavored recipe. The longer the zoodles sit in the sauce the more flavor they absorb, so Zoodle leftovers are always a treat!
Thai Sauce with Zoodles
Serves: 4
Prep Time: 15 minutes
Cook Time: 5 minutes
Ingredients:
4 large zucchinis, spiralized
Sauce
1/3 cup water
2 tablespoons peanut butter
1 tablespoon tamarind concentrate
1 clove garlic
1 date
1 tablespoon sriracha sauce
1 teaspoon Braggs Liquid Amino Acids
Juice of 2 limes
Toppings
Handful of cherry tomatoes cut in half (about 5-ounce)
2 spring onions, chopped
Black sesame seeds
Directions:
1 – Put the zucchini noodles into a large pot and turn on medium high heat.
2 – Cook for about 5 minutes.
3 – Add the water, peanut butter, tamarind paste, garlic, date, sriracha, Braggs and lime juice to a blender and blend.
4 – After zoodles are cooked, add the tomatoes, spring onions and sauce and mix.
5 – Sprinkle on black sesame seeds.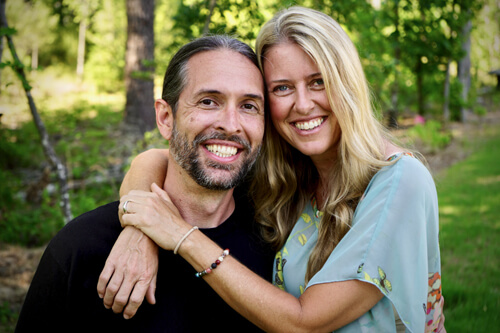 Jill Dalton & Jeffrey Dalton are the visionaries behind The Whole Food Plant Based Cooking Show, a YouTube channel and media platform. The couple knew, after making the switch to a whole food plant based diet and experiencing profound changes in their own health, they needed to share the power of a plant based diet with the world. Together over the past 5 years they have been creating the popular cooking show from their home kitchen in Cary, NC. The Dalton's original recipes, cookbooks, and courses have been used by millions of viewers the world over as they too make the switch to a plant based lifestyle. Jill hosts the show and shares her mastery for creating tasty and easy to prepare recipes that incorporate all of the leading research on plant based nutrition. Jeffrey works behind the scenes writing, designing, filming, producing, and supporting the technical aspects of the show.