What if we told you that it's never been easier to prepare vegan food for your family? Enter Easy Vegan Home Cooking, which contains over 125 satisfying, simple-to-prepare, and healthy vegan and plant-based dishes including the one below perfect for for a party or dinnertime.
Hearty black beans, walnuts, and rolled oats combined with some snazzy spices create a vegan burger that stands front and center for an easy and satisfying family meal.
Rockin' Black Bean Burgers
Makes 7 burgers
Prep Time: 25 minutes / Bake Time: 30 to 35 minutes
Ingredients
2 teaspoons extra-virgin olive oil, plus more as needed, to coat pan and measuring cup
1 can (14 to 16 ounces) black beans, drained and rinsed
⅓ cup flavorful tomato sauce or marinara sauce
2 tablespoons ketchup
1 rounded teaspoon smoked paprika
1 teaspoon Italian seasoning blend
½ teaspoon garlic powder
1½ cups walnut halves
½ cup gluten-free, quick cooking rolled oats
Directions
Preheat the oven to 375°F. Line a large, rimmed baking sheet with unbleached parchment paper. Lightly coat the parchment paper with 2 teaspoons of olive oil.
Put the beans, tomato or marinara sauce, ketchup, smoked paprika, Italian seasoning, and garlic powder into a medium-sized bowl and coarsely mash using a potato masher or large fork.
Put the walnuts into a blender or food processor and process into coarse crumbs. Add the ground walnuts and oats to the bean mixture and stir with a large spoon until thoroughly combined.
To form a burger, scoop up ⅓ cup of the mixture using a lightly oiled measuring cup. Firmly pack the burger mixture into the measuring cup and drop it onto the prepared pan. Gently press the burger using a flat spatula or clean hands to form it into the shape of a burger. Continue in this manner until you have a total of 7 burgers.
Bake the burgers for 14 minutes. Remove the pan from the oven and flip the burgers over. Bake for an additional 10 to 20 minutes (checking often) or until the burgers are golden brown on the bottom and around the edges. (Do not overcook, or the burgers will be too dry.)
Transfer the pan to a wire rack and let the burgers cool 5 minutes. Serve over a leafy green salad, or serve on gluten-free burger buns or English muffins, topped with some coleslaw and drizzled with Smoky and Spicy Burger Sauce (bonus recipe below!).
Smoky and Spicy Burger Sauce
Makes about 1/3 cup
4 heaping tablespoons vegan mayonnaise
2 heaping tablespoons prepared ketchup, plus more to taste
1/4 teaspoon smoked paprika
1/4 teaspoon sriracha-style hot sauce (use 1/2 teaspoon more for extra spicy)
Directions: Put all of the ingredients in a small bowl and whisk to combine. Add more ketchup, if desired and stir to combine.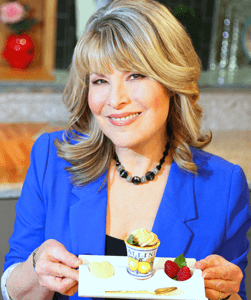 LAURA THEODORE is a nationally recognized television personality, podcast radio host, celebrity PBS vegan chef, and renowned jazz singer. Laura is co-creator of the highly successful Jazzy Vegetarian cooking series on national public television and she is host of the Jazzy Vegetarian Podcast on Unity Online Radio. Laura has made guest appearances on The Talk on CBS, Insider/Entertainment Tonight, and the WCBS Radio Health Report. She has been featured in the New York Times, New York Daily News, Mother Earth Living, VegNews, Family Circle, Readers Digest, and PBS Food, among other highly respected news, food and lifestyle-related journals as well as been on the cover of American Vegan. She is an award-winning cookbook author with such titles as Jazzy Vegetarian's Deliciously Vegan, Vegan for Everyone, and Easy Vegan Home Cooking.