Completely vegan, packed with protein, rich in fiber and perfect for any kind of diet, quinoa is the plant-based superfood that is as easy to work into your day-to-day dining as it is to prepare. The Complete Quinoa Cookbook by Catherine Gill features over 100 recipes featuring this versatile ingredient including the fun seasonal recipe below.
I love these petite cheesecake cups during fall time, but they are a nice treat to enjoy any day of the year, no matter the season. These are so stinking cute that your guests will be thrilled to have one of these on their plate after dinner!
Quinoa Pumpkin Cheesecake Cups
Serves 6
Ingredients
1 package refrigerated vegan pie crust, cut into 6 rounds
½ cup canned pumpkin puree
¼ cup firm tofu, drained
¼ cup cane sugar
½ teaspoon pure vanilla extract
2 tablespoons all-purpose flour
¼ teaspoon baking powder
½ teaspoon ground cinnamon
⅛ teaspoon sea salt
¼ cup cooked quinoa, any type
Directions
1. Preheat oven to 350°F.
2. Lightly grease six muffin tin spots and gently press dough into them.
3. In a blender or food processor, blend pumpkin, tofu, sugar, vanilla, flour, baking powder, cinnamon, and salt; transfer to a mixing bowl and fold in cooked quinoa.
4. Evenly distribute cheesecake filling to each of the six muffin cups.
5. Bake for 20 minutes or until cheesecake is firm and crust is golden and well-done.
6. Allow to cool for at least 20 minutes then cover and refrigerate cheesecake cups for 4 hours before serving.
Tip: Serve on cute plates with a nice dollop of vegan whipped topping and a little scoop of ice cream right on top. You can even garnish with a sprig of mint, if desired.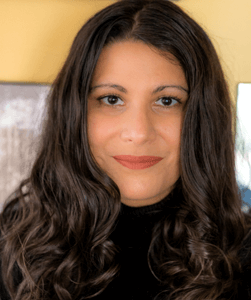 Catherine Gill is a writer, blogger, and holistic vegan chef who specializes in natural and health foods. She studied and found her passion in writing, literature, and social science in college. She runs the popular blog The Dirty Vegan since 2010, focusing on comfort-food-style vegan recipes that are fun, accessible, and healthy. She also ran Dirty Vegan Foods, a vegan bakery specializing in veganized versions of classic desserts. She has an active social media presence with over 28K followers on twitter (@TheDirtyVegan) and over 10K on instagram (@thedirtyvegan_official). She currently resides in New England with her husband, daughter, and rescue dog. She is the author of The Dirty Vegan Cookbook, The Complete Hummus Cookbook, and The Complete Quinoa Cookbook.