Fried rice holds a special place in my heart. The year after I graduated from college and was living on my own for the first time, it was the first dish I learned to make. I pretty much ate nothing but fried rice for a year. It was fast, easy, convenient and most importantly, cheap!
The problem is that when you order fried rice in restaurants, it's usually not so healthy. It's made with white rice and can be loaded with fat and sodium with just a meager amount of vegetables. I wanted to perform a recipe resuscitation and make a healthier version of this Chinese restaurant staple. Instead of white rice, I use nutrient-packed quinoa.  White rice is refined, meaning it's had most of its nutrients, including fiber, stripped away in the milling process. Quinoa, on the other hand, is a whole grain and a nutritional powerhouse. It's packed with protein and provides a wide variety of vitamins, minerals and fiber. This combination will leave you feeling full and satisfied for a long time as opposed to the quick rush you get with white rice that leaves you feeling hungry soon after.
To up the nutrition even more, I like to make my fried rice with eggs and lots of veggies, depending on what I have in my fridge or freezer. Use a variety of different colored vegetables to maximize the nutrients. This time I used a combination of broccoli, peas and carrots but you can experiment with your favorite vegetables.  Mushrooms, zucchini, bell peppers and edamame are some other great options. You can use fresh or frozen vegetables.  Frozen vegetables are picked and frozen at their peak and are nutrient-rich.
Eggs provide protein as well as several important vitamins, minerals and antioxidants. You can also add some diced tofu, chicken or shrimp and this side dish easily becomes a main course.
Restaurant fried rice can sometime be drenched in oil but when you make it at home you can control the amount of oil used. You don't need to use a lot if you use ingredients that have lots of flavor. Also, to keep the sodium in check, I use reduced sodium soy sauce (or tamari, which is gluten-free) and adjust the seasoning to taste.
Day-old quinoa works best in this dish because the grains will be slightly dried out. If you use freshly cooked quinoa, your fried "rice" will end up being gummy. So plan ahead and make a batch of quinoa the night before. Or if you make it fresh, spread it out on a tray and let in cool in the refrigerator or freezer for a few hours before making the rest of the dish.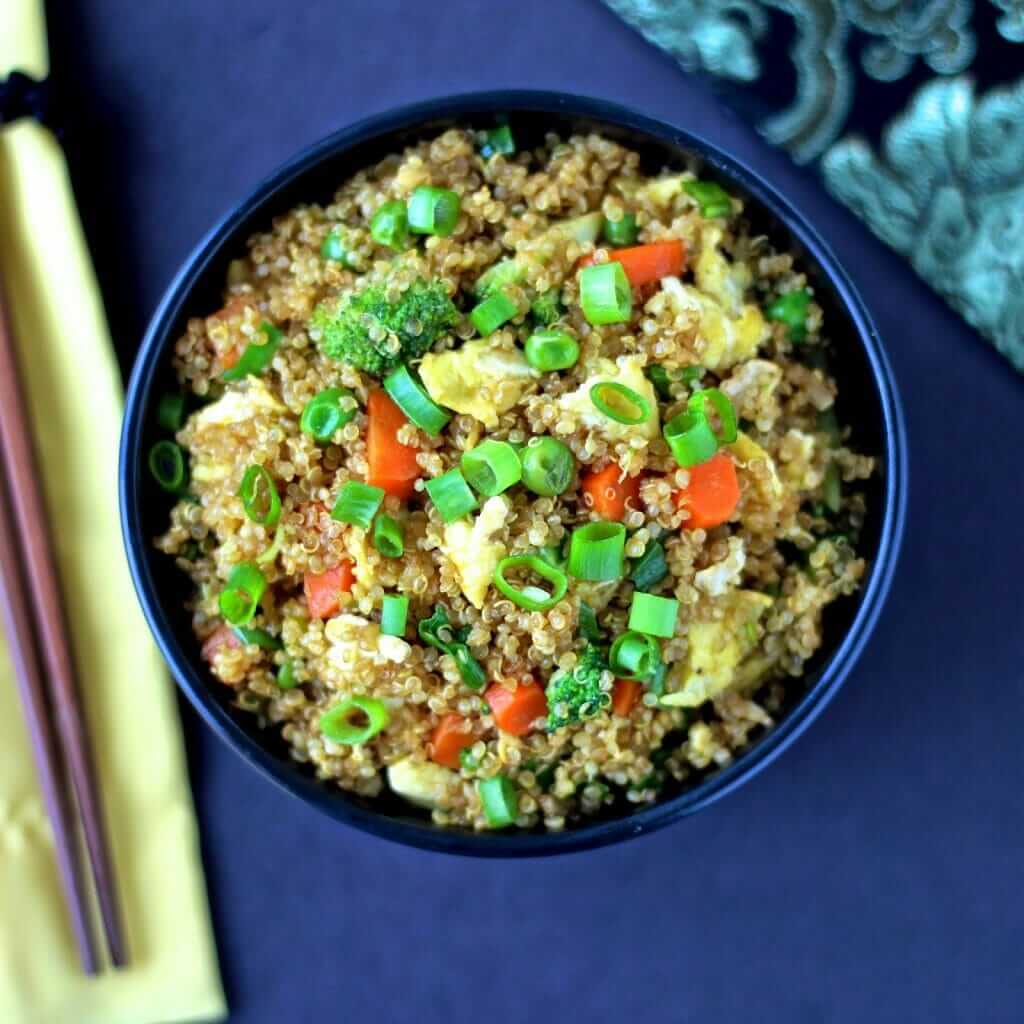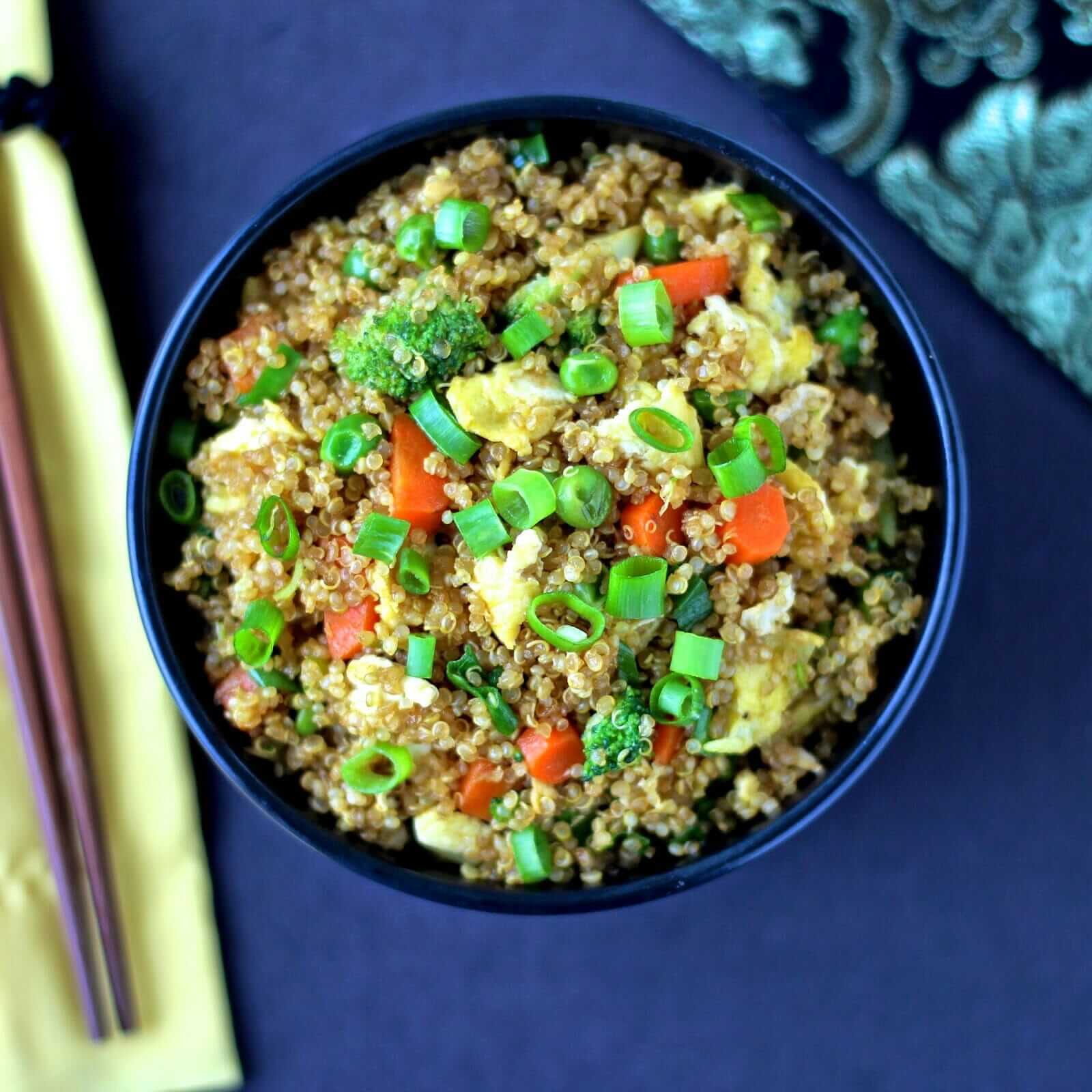 Quinoa Fried "Rice"
Makes 4 servings
One serving: Calories 278; Fat 10.9g (Sat 1.8g); Protein 11.1g; Carb 35.1g; Fiber 5.3g; Sodium 354mg
Ingredients:
1 cup quinoa, rinsed
4 teaspoons safflower, peanut or other neutral-flavored oil, divided
2 eggs
Salt and pepper
3 cloves garlic, minced
1 tablespoon minced ginger
3 scallions, sliced (whites and greens separated) plus extra for garnish
1 ½ cups chopped carrots, broccoli and peas (fresh or frozen)
2 tablespoons low sodium soy sauce (or tamari if gluten-free)
2 teaspoons sesame oil
½ teaspoon Sriracha or other hot sauce (optional)
Directions:
Place the quinoa in a saucepan with 2 cups water and bring to a boil. Lower heat to a simmer and cover. Cook 10-15 minutes until done. Cool the quinoa, ideally overnight in the refrigerator. Heat 1 teaspoon oil in a wok over medium high heat. Beat the eggs in a bowl with a fork and add them to the pan.  Season them with a pinch of salt and pepper. Cook, stirring occasionally, until firm.  Break the egg up into pieces with a spatula and transfer it to a plate.
Heat the remaining 3 teaspoons oil in the wok.  Add the garlic, ginger and scallion whites and cook until fragrant, 2-3 minutes. Add the vegetables and cook a few minutes, stirring often, until crisp tender. Add the cooled quinoa and stir to combine. Add the soy sauce, sesame oil, Sriracha, scallion greens and cooked egg and stir to combine well. Garnish with scallion greens.
DR. SONALI RUDER is a board certified emergency medicine physician, recipe developer, blogger and bona fide foodie. In 2007, she entered a recipe contest on a whim and ended up being selected from thousands of entrants to compete on a cooking competition on the Food Network. In 2009, Sonali decided to take her passion for cooking one step further by enrolling in culinary school at the Institute of Culinary Education. While she was a student, she started her popular food blog The Foodie Physician where she uses her medical and culinary backgrounds to help readers create meals that are nutritious and full of flavor. In addition to practicing medicine, Sonali also develops recipes and is a contributing writer for several national magazines, cookbooks and websites. She is the author of The Greek Yogurt Diet and Cooking Well: Anti-Aging.