Completely vegan, packed with protein, rich in fiber and perfect for any kind of diet, quinoa is the plant-based superfood that is as easy to work into your day-to-day dining as it is to prepare. The Complete Quinoa Cookbook by Catherine Gill features over 100 recipes featuring this versatile ingredient including the fun seasonal recipe below, which makes for a great holiday treat.
For years, vegans went without candy like this. No longer! We have all the culinary products we need available to us and the knowledge needed to make our own ingredients. We can even add popped quinoa to our bark candies just to show off!
Popped Quinoa Almond Bark Candy
Serves 12–15
Ingredients
1 tablespoon extra-virgin olive oil
¼ cup dry quinoa
3 cups vegan chocolate chips
2 tablespoons coconut oil
2 tablespoons pure maple syrup
1 teaspoon vegan milk
¼ teaspoon almond extract
¼ teaspoon pure vanilla extract
½ cup slivered almonds
2 teaspoons coarse sea salt
Directions
In a medium-sized saucepan on medium heat, heat olive oil and add quinoa. Stir quinoa frequently until all quinoa has popped and transfer to a bowl to cool and set aside. Line a medium baking sheet with parchment paper.
Then, in a large saucepan, combine chocolate chips, coconut oil, maple syrup, milk, almond and vanilla extracts, stir constantly until melted and well-combined. Quickly transfer chocolate mixture to the lined baking sheet, spread evenly then top with almonds and sea salt.
Allow to cool and set in refrigerator, for about an hour or longer. Once set, break up into pieces of various shapes and sizes.
Tip: You can wrap candy bark pieces in waxed paper and store in the refrigerator for about one week. Makes for a great gift!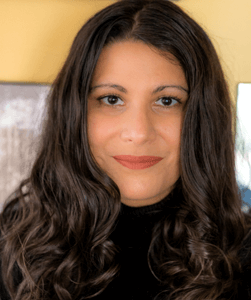 Catherine Gill is a writer, blogger, and holistic vegan chef who specializes in natural and health foods. She studied and found her passion in writing, literature, and social science in college. She runs the popular blog The Dirty Vegan since 2010, focusing on comfort-food-style vegan recipes that are fun, accessible, and healthy. She also ran Dirty Vegan Foods, a vegan bakery specializing in veganized versions of classic desserts. She has an active social media presence with over 28K followers on twitter (@TheDirtyVegan) and over 10K on instagram (@thedirtyvegan_official). She currently resides in New England with her husband, daughter, and rescue dog. She is the author of The Dirty Vegan Cookbook, The Complete Hummus Cookbook, and The Complete Quinoa Cookbook.