Soothe your skin and digestive tract and make your heart happy with the goodness of oats and papaya. Note that hemp seeds and chia seeds contain salicylates and amines, so they are optional. See Variation (below) for a gluten-free quinoa porridge recipe. Toppings: pear is the low amine/histamine option and all the mentioned fruits are low in salicylates.
Papaya Sunrise Porridge
Serves 1 adult, preparation time 3 minutes, cooking time 5 minutes (soaking overnight is optional)
Ingredients
¾ cup rolled oats
1 teaspoon hemp seeds or chia seeds (optional)
½ cup organic oat milk or filtered or spring water, or plant-based milk of choice
½ cup sliced papaya, skin and seeds removed (A), or ½ pear, peeled and sliced
Directions
Optional overnight soaking to increase the goodness: place the oats and seeds into a bowl and cover with about 1 cup of water. Cover the bowl with plastic wrap or a silicon cover and place it in the refrigerator overnight.
In the morning, pour the oats into a small saucepan, add the milk and heat until it thickens, stirring often. Add more milk as needed. Serve with extra milk and top with sliced papaya. I don't add any sweetener but feel free to drizzle ½–1 teaspoon of maple syrup if desired.
Variation: Quinoa Porridge
Rinse ½ cup white quinoa (not puffed), and simmer on low in 1 cup of water or plant-based milk of choice until thick (about 12–15 minutes). Add 1 teaspoon of maple syrup and serve with sliced papaya, pawpaw, pear or banana.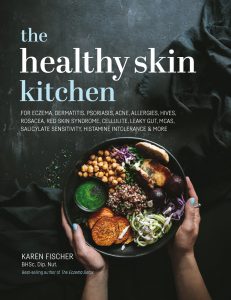 From the bestselling author of The Eczema Detox, Karen Fischer, The Healthy Skin Kitchen is an essential resource for anyone who wants beautiful skin, particularly people who struggle with eczema, acne, and other skin disorders. Full of gorgeous photography and nutritious recipes, it inspires readers to build and maintain a healthy lifestyle. The recipes are allergy-friendly and include vegan and autoimmune paleo options to ensure there are options tailored to a wide range of people.
Most skin health books use ingredients that are rich in salicylates and histamines, like coconut, avocado, fermented foods, etc. This book is the first to explode the myth that such foods benefit skin health. It focuses on low chemical foods that are truly healing for the skin. Readers will find methods to combat acne, allergies, dandruff, leaky gut, migraines, rosacea, and many more conditions. Of course, those without skin problems will also benefit from these accessible, nutritious recipes, designed to improve the wellbeing of all readers.
Karen Fischer is a registered nutritionist and founder of the support network Eczema Life. Her book The Healthy Skin Diet won 'Best Health, Nutrition or Specific Diet Book' at the Australian Food Media Awards. Over 20 years she has helped thousands of people to heal and reclaim their lives.