Plant Based Cooking Made Easy is the must-have cookbook from Jill and Jeffrey Dalton, the creators and host of The Whole Food Plant Based Cooking Show on YouTube. Plant Based Cooking Made Easy features over 100 life-saving, whole food plant-based recipes that are gluten-free, refined sugar & oil free, low in sodium, and full of scrumptious flavors. Enjoy a recipe featured in the book below!
Tacos are another one of those childhood foods that are always welcome on the dinner table. This is my take on tacos using mushrooms (yay more mushrooms!) as the meat replacement flavored with Mexican style mole sauce. Tacos really lend themselves to adding anything and everything as toppings so chop up some of your favorite veggies and dig in!
Mushroom Tacos
Serves: 4
Prep Time: 15 minutes
Cook Time: 15 minutes
Ingredients
8 ounces mushrooms, diced
1 onion, diced
½ red bell pepper, diced
1 tablespoon balsamic vinegar
1 teaspoon cocoa powder
1 teaspoon smoked paprika
1 teaspoon Braggs Liquid Amino Acids
1 package corn tortilla shells
Toppings of your choice
Directions
1. Add a couple tablespoons of water to a frying pan.
2. Sauté the onions and red pepper in the water until the onions are translucent.
3. Add mushrooms and remaining ingredients except for the tortillas and cook for 10–15 minutes.
4. Build your tacos the way you like! I use corn tortillas, shredded cabbage, jalapeños, tomatoes, and salsa.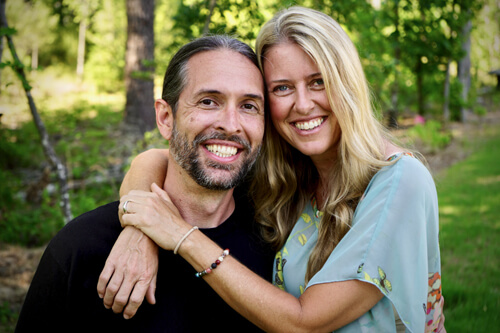 Jill Dalton & Jeffrey Dalton are the visionaries behind The Whole Food Plant Based Cooking Show, a YouTube channel and media platform. The couple knew, after making the switch to a whole food plant based diet and experiencing profound changes in their own health, they needed to share the power of a plant based diet with the world. Together over the past 5 years they have been creating the popular cooking show from their home kitchen in Cary, NC. The Dalton's original recipes, cookbooks, and courses have been used by millions of viewers the world over as they too make the switch to a plant based lifestyle. Jill hosts the show and shares her mastery for creating tasty and easy to prepare recipes that incorporate all of the leading research on plant based nutrition. Jeffrey works behind the scenes writing, designing, filming, producing, and supporting the technical aspects of the show.