Chef Ed Harris, a past winner of Food Network's Chopped, has a passion for Asian cuisine as well as vegan-style cooking. Check out his recipe for Mushroom Pot Stickers below.
Mushroom Pot Stickers
Cooking Time: 30 mins
Servings: 5
Preparation Time: About 20 mins
Ingredients
1 lb shiitake mushrooms, small chop
1/2 lb water chestnuts, small diced
3/4 lb carrots, small diced
4 oz Thai chili, minced
8 oz ginger, minced
4 oz garlic, minced
1 cup of corn, sliced off the cob
1-1/2 oz salt
1 teaspoon white pepper
3 tablespoon sesame oil
2 oz vegetarian oyster sauce
1 oz mushroom soy
5 oz corn starch
5 oz of water
1/4 cup cilantro leaves, chopped
1-1/2 cup of rice wine vinegar
1 cup of low sodium soy sauce
1 tablespoon sambal chili sauce
Potsticker (gyoza) wrapper (white)
Directions
1 – Blanch briefly the shiitake mushrooms, chestnuts, carrots & corn.
2 – Drain dry all blanched vegetables.
3 –  In a wok add about 4-6 tablespoons of oil and heat. Add garlic, chili, ginger and cook for about 2 minutes. Stir fry all ingredients and season with salt, sugar, white pepper, sesame oil, vegetarian oyster sauce and mushroom soy. Make a slurry with the cornstarch and water, add as needed to the mix to thicken the stir-fry. Cool down then fold in cilantro.
4 – Once filling is fully cooled, we can start the dumpling making.
5 – Set aside a small bowl of h2o and a baking sheet tray lined with parchment paper near your workspace.
6 – Lay about 2-4 dumpling wrappers on the work surface and place about a tablespoon of filling in the middle of each. Make one at a time if this is your first time making dumplings. The skin tends to dry out if left in open air too long.
7 – Dip a finger or two in the h2o and run it around the edges of the first dumpling wrapper and fold, then repeat.
8 – Fold the wrapper over and pinch it closed. If the wrapper opens again, dab it with a little h2o and pinch again. Wrappers will dry out, so work quickly to seal them up.
9 – Repeat with remaining wrappers until all the filling is used.
10 – To cook the pot stickers, fill a medium size sauce pot with h2o half way up and bring to a boil. Add dumplings small batches at a time and cook. When ready they should float about 6 minutes. Once dumplings are ready, drain and set aside.
11 – Heat a large skillet over medium-high heat and coat the bottom with about a tablespoon of oil. Once the oil is hot, add cooked dumplings to get color. You are looking for golden brown. Remove from oil to a paper-towel on a plate.
12 – Serve immediately with soy sauce mixed with rice wine vinegar & chili sauce for dipping.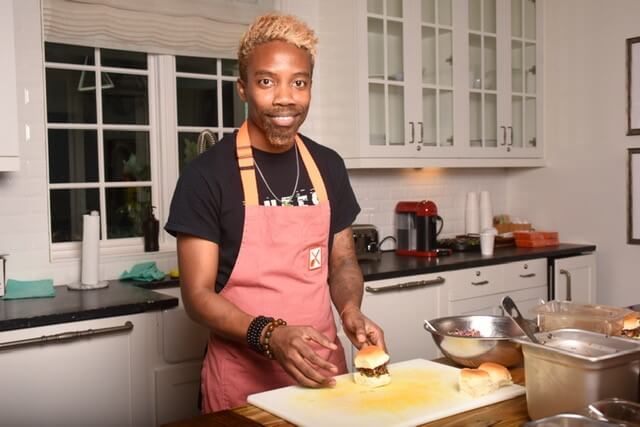 Chef Ed is most famous for being a winner on Food Network's hit cooking show, "Chopped — Season 4" and competing on "Iron Chef International."
Chef Ed Harris is originally from the Caribbean island of St. Lucia. He was exposed to various culinary experiences prior to his family moving to Brooklyn NY. After graduating high school he studied culinary arts at the Art Institute of New York City. Harris spent five years as a chef for Buddakan restaurant in NYC, where he developed a passion for Asian cuisine. During his tenure, he trained with a master dim sum chef and perfected the art of cooking dumplings as well as making Asian sauces and fried rice.
Currently, he runs his own consulting firm "Chef Life Consulting." Through his company, he does private in home dinners and restaurant consulting to train staff and update menus. He also has monthly pop up dinner under the name "Oriyaky" which is spin on his wife's name and an ode to his love for Asian cuisine. These dinners appeal to those who would like to have personal interaction with a chef, creative menus and interesting dining companions.