What if we told you that it's never been easier to prepare vegan food for your family? Enter Easy Vegan Home Cooking, which contains over 125 satisfying, simple-to-prepare, and healthy vegan and plant-based dishes including the one below just in time for the summer!
Need a decadent tasting chocolaty, dairy and egg-free pudding? This grownup, not-too-sweet, coffee, maple, and vanilla laced mousse is super creamy and smooth, designed to please all of the chocolate and coffee fans at your table! Wow.
Maple-Espresso Chocolate Mousse
Makes 4 to 8 servings
Prep time: 10 minutes / Refrigeration Time: 4 hours to overnight
Ingredients
¼ cup sweetened or unsweetened vanilla flavored dairy-free milk
⅓ cup strong brewed coffee or espresso (see Chef's Note)
3 tablespoons maple syrup
¾ block (about 12 ounces) extra-firm regular tofu (refrigerated tub), drained and crumbled
1 cup vegan chocolate chips (55% to 60% cacao)
Directions
Heat the dairy-free milk, brewed coffee, and maple syrup, in a small saucepan over medium-low heat until simmering hot.
Put the tofu in a high-performance blending appliance. Add the chocolate chips. Pour in the simmering dairy-free milk mixture and process for 30 seconds to 1 minute, or until completely smooth.
Spoon the mixture into four medium-sized dessert dishes or eight espresso cups, and refrigerate for 4 to 24 hours.
Serve chilled with a generous dollop of optional Vegan Tangerine Whipped Cream Topping spooned on top (see recipe below).
Chef's Note: For a kid friendly version of this mousse, add an additional ⅓ cup sweetened dairy-free milk and omit the coffee.
Vegan Tangerine Whipped Cream Topping
Makes about ¾ cup
Prep Time: 10 minutes / Refrigeration Time: 2 hours
Tangy tangerine juice provides a powerful punch of flavor in this delectable dessert cream topping. Serve it spooned over cakes, pies, fresh fruit, and many more!
Ingredients
½ cup raw cashews (soaked, drained, and rinsed, see Chef's Note)
3 to 4 ounces extra-firm regular tofu (refrigerated tub), drained and crumbled
¼ cup freshly squeezed tangerine or orange juice (see Chef's Note)
2 tablespoons maple syrup
Directions
Put the soaked and drained cashews, tofu, tangerine or orange juice, and maple syrup in a blender container. Blend for 30 seconds, or until completely smooth, adding a bit more juice (or water) if needed to achieve desired consistency. Cover and refrigerate for 2 hours, or until well chilled.
Chef's Notes: To soak the cashews, put the raw cashews and ¼ cup water into a small bowl. Refrigerate for 1 to 4 hours. Drain the cashews and rinse thoroughly in cold water. Proceed as directed. If preferred you may use bottled tangerine or orange juice in place of the freshly squeezed.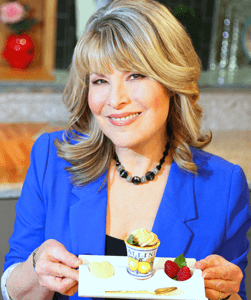 LAURA THEODORE is a nationally recognized television personality, podcast radio host, celebrity PBS vegan chef, and renowned jazz singer. Laura is co-creator of the highly successful Jazzy Vegetarian cooking series on national public television and she is host of the Jazzy Vegetarian Podcast on Unity Online Radio. Laura has made guest appearances on The Talk on CBS, Insider/Entertainment Tonight, and the WCBS Radio Health Report. She has been featured in the New York Times, New York Daily News, Mother Earth Living, VegNews, Family Circle, Readers Digest, and PBS Food, among other highly respected news, food and lifestyle-related journals as well as been on the cover of American Vegan. She is an award-winning cookbook author with such titles as Jazzy Vegetarian's Deliciously Vegan, Vegan for Everyone, and Easy Vegan Home Cooking.