The food we eat is what powers our bodies—the better we eat, the better we look, feel and perform. Yet less than five percent of Americans are getting the recommended amount of fiber per day—a vital nutrient that can do many things from regulating blood sugar to lowering cholesterol to creating a healthy gut.
The Fiber Effect by Nichole Dandrea-Russert, MS, RDN provides everything you need to learn about the vital role fiber plays in your body and your guide to meeting your daily fiber needs and so much more. The Fiber Effect also includes easy meal plans and recipes to get you started. Check out one recipe below.
Lentil Spinach Soup
Preparation Time: 30 minutes
Cook Time: 1 hour
Servings: 6–8
Ingredients
2 cups dry green or brown lentils, rinsed
¼ cup olive oil or ¼ cup veggie broth for oil-free
1 medium yellow onion, chopped
3 medium carrots, chopped
2 celery stalks, chopped
3 garlic cloves, minced
1 teaspoon dried oregano
1 teaspoon mustard seed
1 teaspoon cumin seed
1 teaspoon fennel
¼ teaspoon cayenne or ½ teaspoon red pepper flakes (optional)
1 (28-ounce) BPA-free can or carton of crushed tomatoes
4 cups veggie broth
4 cups water
2 cups chopped spinach
Sea salt and black pepper to taste
Directions
1. Soak lentils in warm water for 1 hour. Drain and set aside.
2. In a large soup pot, heat oil or vegetable broth over medium heat.
3. Pop (add) mustard, cumin and fennel seeds for one minute.
4. Add carrots, celery, onion and cook until onion is soft and tender (about 5 minutes).
5. Add garlic, oregano and, if you want the soup to be spicy, add cayenne or red pepper.
6. Stir in lentils, veggie broth, water and crushed tomatoes.
7. Bring to a boil then reduce heat and simmer for 1 hour. Just before serving stir in spinach and add salt and pepper to taste. Garnish with cilantro, basil, nutritional yeast, and cashew cheese.
8. Enjoy throughout the week or portion it out to freeze.
Per serving (6 servings): 325 calories, 53 grams carbohydrate (39 grams net carbohydrate), 14 grams fiber, 17 grams protein, 11 grams fat, 535 milligrams sodium
Good source of vitamin B2, vitamin B3, vitamin B5, folate, calcium, magnesium, phosphorus
Excellent source of vitamin B1, vitamin B6, vitamin A, vitamin C, vitamin E, vitamin K, copper, iron, manganese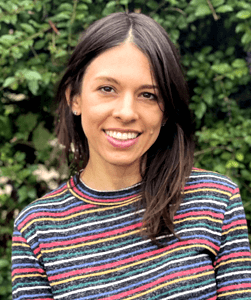 Nichole Dandrea-Russert, MS, RDN, has been a registered dietitian nutritionist for 25 years, specializing in heart disease, diabetes, sports nutrition and women's health. For the past ten years, she has focused on plant-based lifestyles through inspiring and educating people about plant-based eating to optimize their health and the health of the planet. Nichole has been featured in Yoga Journal, Veg News and Atlanta Journal Constitution through her plant-based chocolate company, Nicobella Organics. She also has a plant-based blog, Purely Planted, for wellness tips, recipes and inspiration. She currently lives in Atlanta, GA with her husband.