What if we told you that it's never been easier to prepare vegan food for your family? Enter Easy Vegan Home Cooking, which contains over 125 satisfying, simple-to-prepare, and healthy vegan and plant-based dishes including the one below perfect for wintertime.
Yummy red lentils combined with flavorful fire-roasted tomatoes cook down to make this cauliflower curry soup flavorful, thick, and creamy. Hearty and delicious, this soup makes a welcome entrée any night of the week!
Lentil & Cauliflower Curry Soup Recipe
Makes 6 to 8 servings
Prep Time: 20 minutes / Stove Top: 48 to 52 minutes
Ingredients
1¼ cups red lentils, sorted and rinsed
1 can (14 to 15 ounces) diced fire-roasted tomatoes, with juice
7 cups cauliflower florets (about 1 medium head)
1 medium sweet onion, sliced or chopped
4 cups cubed white or yellow potatoes (peeling is optional)
1 tablespoon mild curry powder
½ teaspoon salt
8 cups very strong vegetable broth (see Chef's Note)
1 cup water
1 tablespoon extra-virgin olive oil
8 cups (loosely packed) baby spinach
Directions
Put the lentils, tomatoes, cauliflower, onion, potatoes, curry powder, salt, vegetable broth, and water in a large soup pot over medium-high heat. Cover loosely and bring to a boil.
Decrease the heat to medium-low, cover, and simmer, stirring occasionally, for 40 minutes. Add the olive oil and spinach and cook, stirring occasionally, for 8 to 12 minutes more. Serve hot.
CHEF'S NOTE: You may use 9 cups water and 2 large crumbled vegan gluten-free bouillon cubes in place of the 8 cups vegetable broth and the 1 cup water, if desired.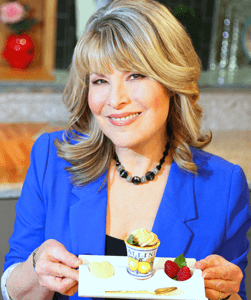 LAURA THEODORE is a nationally recognized television personality, podcast radio host, celebrity PBS vegan chef, and renowned jazz singer. Laura is co-creator of the highly successful Jazzy Vegetarian cooking series on national public television and she is host of the Jazzy Vegetarian Podcast on Unity Online Radio. Laura has made guest appearances on The Talk on CBS, Insider/Entertainment Tonight, and the WCBS Radio Health Report. She has been featured in the New York Times, New York Daily News, Mother Earth Living, VegNews, Family Circle, Readers Digest, and PBS Food, among other highly respected news, food and lifestyle-related journals as well as been on the cover of American Vegan. She is an award-winning cookbook author with such titles as Jazzy Vegetarian's Deliciously Vegan, Vegan for Everyone, and Easy Vegan Home Cooking.