For athletes, fitness enthusiasts and weekend warriors, so much time and attention goes into developing a workout regimen. Unfortunately, we don't always put that same level of effort into the opposite side: recovery. To grow our bodies stronger and more resilient, we also need to think about how to safeguard them. It starts with boosting your immunity.
Believe it or not, aromatherapy is one of the most effective ways to enhance the immune system and safeguard it against illness. The gym is absolutely a place where you're likely to pick up germs, but some practical essential oil practices are more than enough to remedy them—and keep your immune system strong, so you can continue to train.
Here's a look at how an essential oils medicine cabinet can put you in better control of your immunity. While you focus on training your body, these practices will help protect it.
Diffuse to combat air contamination
According to the U.S. Environmental Protection Agency (EPA), indoor air is two-to-five-times more polluted than outdoor air. Research also shows that, on average, we spend approximately 90 percent of our time indoors, breathing in air filled with odors, harmful gases and chemicals, pollen, dust and viruses.
Diffusing essential oils is a cornerstone to stop environmental threats and enhance your body's ability to enjoy robust health because they are rich in antioxidants and have profound anti-inflammatory capacity. Introducing an immune-boosting blend of oils into your home and office goes a long way toward fighting back against the pathogens that likely inhabit it.
The first step is to make an immune-boosting blend that was adapted from a remedy researchers discovered was effective at killing the flu virus. Start by mixing 10 drops of the following essential oils into a small 5 ml aromatherapy bottle: cinnamon bark, clove bud, eucalyptus, lemon, orange and rosemary. Next, put 4-6 drops of this warming aromatic delight into your aromatherapy diffuser to help detoxify the air you're breathing and enhance immune function.
Supplement your immune system
Protecting yourself against airborne pathogens by diffusing essential oils is only the beginning. For a direct approach to immune strengthening, consider supplementing essential oils directly. Combine two-to-four drops of the immunity blend mentioned in the above section with coconut or extra-virgin olive oil. Fill a size 00 vegan gel capsule and enjoy the benefits of this homemade supplement. Be sure to take with food.
Keep in mind that this isn't a daily supplement. Instead, it's a great option for those times when you feel a cold coming on or during times of the year when you might be susceptible to catching an illness. Be sure to consult with your health-care provider if you're taking immune-suppressing medications, blood thinners, or other medications that can interact with these essential oils.
Snack with immunity in mind
Everyone knows diet is a cornerstone of physical fitness and wellness. It's also another area where you can apply the immune-boosting power of essential oils. Combine nutrient-rich organic foods like almond butter, honey, Himalayan pink salt, coconut oil, liposomal vitamin C and a pinch of pumpkin pie spice with 1-2 drops of your immune-boosting essential oils blend for a fruit and veggie dip that's delicious and nutritious—not to mention protective.
Roll-on readiness to fight off germs
If you join a gym, you know how prevalent germs are. Even after wiping down equipment or showering off after a workout, tenacious germs can linger. Get rid of them with a roll-on immune-boosting essential oils blend. Place 10 drops of our immune blend into a 10 ml roller bottle and fill with fractionated coconut oil or jojoba oil. Massage the mixture over pulse points, and onto your abdomen, chest and back of the neck for immune support.
Train your body, protect your immunity
Physical health is something we're all concerned about. Whether you're a runner, weight lifter, cross-trainer, mountaineer, swimmer or train in a different capacity, your health is tied to your immunity. It's time to put emphasis on immune health, and it starts with essential oils. These tips are simple enough for anyone to practice, and they come with benefits that'll keep you healthy, so you can keep moving.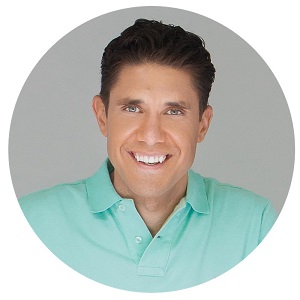 DR. ERIC ZIELINSKI is the author of the national bestseller The Healing Power of Essential Oils and The Essential Oils Apothecary. Dr. Z has pioneered natural living and biblical health education since 2003. Trained as an aromatherapist, public health researcher, and chiropractor, Dr. Z started Natural Living Family in 2014 with his wife to help people learn how to use natural remedies like essential oils safely and effectively. Now visited by more than three million natural health seekers every year, Natural Living Family has rapidly become the number one online source for biblical health and non-branded essential oils education.