What if we told you that it's never been easier to prepare vegan food for your family? Enter Easy Vegan Home Cooking, which contains over 125 satisfying, simple-to-prepare, and healthy vegan and plant-based dishes including the one below perfect for dinnertime.
This easy-to-assemble loaf is delicious, hearty, and appetizing. The white beans and pecans add a meaty texture, while the marinara sauce and spices add flavor. Serve this loaf at any family meal to rave reviews, guaranteed!
Hearty Vegan Meatloaf
Makes 6 servings
Prep Time: 35 minutes / Bake Time: 85 to 95 minutes
Ingredients
1½ cups pecan halves
1 cup plus 2 tablespoons gluten-free, quick cooking rolled oats
1½ rounded cups vegan marinara sauce, divided
1 can (14 to 16 ounces) great northern white beans, drained, and rinsed (see Chef's Note)
1½ tablespoons gluten-free tamari or coconut aminos
1 tablespoon Italian seasoning blend
¾ teaspoon garlic powder, divided
2½ teaspoons maple syrup, divided
Directions
Preheat the oven to 375°F. Line a 9- x 5-inch loaf pan with unbleached parchment paper, leaving a 2½-inch overhang on the two lengthwise sides of the pan to make paper "wings."
Put the pecans into a blender or food processor and process (on medium or low) into coarse crumbs. Transfer the pecan crumb mixture to a large bowl. Add the rolled oats and stir with a large spoon to combine.
Put 1 cup marinara sauce, white beans, tamari, Italian seasoning, ½ teaspoon garlic powder, and ½ teaspoon maple syrup into the blender or food processor and process (on medium) into a very chunky purée making certain that some chunky pieces of the beans remain. Add the marinara/bean mixture to the pecans and oatmeal and stir with a large spoon to combine.
Spoon the loaf mixture into the prepared pan and smooth the top of the loaf with a spatula, pressing it down in order to compress the loaf. Fold the paper "wings" over the top of the loaf and gently press down with your hands. This will help to hold the loaf together while it bakes. Cover the loaf (tightly) with foil.
While the loaf bakes, make the glaze. Put ½ cup marinara sauce, 2 teaspoons maple syrup and ¼ teaspoon garlic powder into a small bowl and stir with a whisk to combine.
Bake the loaf for 45 minutes. Remove the foil and bake for 20 minutes. Put the pan on a wire rack and carefully peel back the parchment paper "wings" that are covering the top of the loaf. Spread the glaze evenly over the top of the loaf. Bake uncovered for an additional 20 to 30 minutes or until the loaf is golden brown around the edges and very firm to the touch.
Transfer the pan to a wire rack and let cool for 2 minutes to allow it to firm up slightly. Using the paper "wings," lift the loaf out of the pan and put it on the rack. Let cool 10 to 15 minutes before gently pulling back the paper and slicing. Carefully cut the loaf into 8 to 9 slices, using a serrated bread knife, and wiping the knife clean after cutting each slice.
Chef's Note: You may use any variety of white beans this recipe.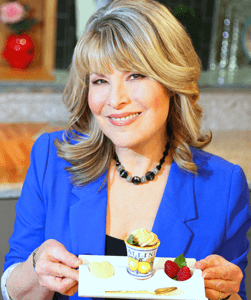 LAURA THEODORE is a nationally recognized television personality, podcast radio host, celebrity PBS vegan chef, and renowned jazz singer. Laura is co-creator of the highly successful Jazzy Vegetarian cooking series on national public television and she is host of the Jazzy Vegetarian Podcast on Unity Online Radio. Laura has made guest appearances on The Talk on CBS, Insider/Entertainment Tonight, and the WCBS Radio Health Report. She has been featured in the New York Times, New York Daily News, Mother Earth Living, VegNews, Family Circle, Readers Digest, and PBS Food, among other highly respected news, food and lifestyle-related journals as well as been on the cover of American Vegan. She is an award-winning cookbook author with such titles as Jazzy Vegetarian's Deliciously Vegan, Vegan for Everyone, and Easy Vegan Home Cooking.