Providing vegan alternatives to the sorts of delicious comfort foods that everyone craves, The Dirty Vegan Cookbook, Revised Edition by Catherine Gill makes it easier than ever to live the vegan lifestyle. Self-styled as "vegan junk food"–healthy vegan food that doesn't skimp on taste–The Dirty Vegan Cookbook is a celebration of all the amazing tastes and dishes available to those on vegan diets. Enjoy a recipe featured in the book below!
One time at a fancy Sicilian restaurant, I saw all these other dishes on the menu that incorporated delicious fresh pairings with the choices that unfortunately had animal products in them, but the vegan options were so boring. I went home and thought of the ingredients I saw on the menu, artichokes and capers, and curated a Sicilian inspired pizza without the animal products. Since many of these ingredients are easy to find in the Italian isle of any grocery store, this recipe is a cinch to make, however the flavor combination will have your taste buds doing a victory dance in your mouth! Vegans can too have gourmet pizza and we don't have to get all dressed up to go to the stylish restaurant to achieve it. Don't skip the 'seasoning with salt and pepper' step at the end of this recipe – it gives this pizza extra oomph.
Easy Artisan Sicilian Pizza
Serves 4–6
Ingredients
20 ounces prepared pizza dough
½ cup vegan cream cheese
3 ounces tomato paste
2 teaspoon dried Italian seasoning
2 tablespoon extra-virgin olive oil
8.5 ounces artichoke hearts, quartered
6 ounces roasted red peppers
10 Kalamata olives, pitted and sliced
2 tablespoons capers, drained
4 ounces vegan mozzarella cheese, sliced or shredded
Salt and pepper, to taste
Directions
Preheat oven to 450°F. Roll out dough in a circular shape on a floured surface, to desired thickness. Place dough on a greased and floured pizza pan or on a pizza stone. Let dough rest for 3–5 minutes.
Mix cream cheese, tomato paste, Italian seasoning, and 1 tablespoon of olive oil in a small mixing bowl; spread evenly on dough. Top pizza with artichokes, red peppers, olives, capers and cheese. Drizzle with remaining olive oil. Season the top with salt and pepper.
Bake for 10–15 minutes or until crust is golden and the cheese is bubbly and melted. Let pizza sit to settle for a few moments before slicing.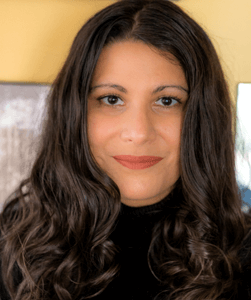 Catherine Gill is a writer, blogger, and holistic vegan chef who specializes in natural and health foods. She studied and found her passion in writing, literature, and social science in college. She runs the popular blog The Dirty Vegan since 2010, focusing on comfort-food-style vegan recipes that are fun, accessible, and healthy. She also ran Dirty Vegan Foods, a vegan bakery specializing in veganized versions of classic desserts. She has an active social media presence with over 28K followers on twitter (@TheDirtyVegan) and over 10K on instagram (@thedirtyvegan_official). She currently resides in New England with her husband, daughter, and rescue dog. She is the author of The Dirty Vegan Cookbook, The Complete Hummus Cookbook, and The Complete Quinoa Cookbook.