During the pandemic, the running population increased significantly as people sought ways to focus on their physical health. People went outside to run in fresh air or chose a treadmill to work out in their homes. New runners were getting in the miles and losing or maintaining weight. RunRepeat recently published a study about the running boom during the pandemic and found that the motives for running are changing. Physical health is the primary motivation for 72% of new pandemic runners, up 18% from the reasons given by runners who started before the pandemic.
Physical fitness is important in fighting any disease that we encounter. Running can be a viable option for most of us and isn't just for those who like to do marathons. As with any physical activity, building up to full strength is the smart method for beginners. The bike-walk-run can be the best way to begin, especially if you have some weight to lose. By starting off with a non-impact cardio option and then walking, your knees, shins, feet and back will thank you for not jumping into running right away.
What Else Can You Do?
Cardiovascular fitness comes in many forms. Many will find joy in activities such as running or walking, but those who despise running often prefer to get their "cardio" from lifting heavy weights, calisthenics, yard work or manual labor. Your heart and lungs work when you do these activities. It's simply different from the sustained work of running or walking and uses different energy systems. Many also prefer less impactful cardio options like biking, rowing, elliptical machines, stair steppers, paddleboarding or swimming.
It's a good idea to diversify your activities, so you not only prevent getting bored with the same activity, but also so you gain experience burning calories at varying intensities by working all of your body's energy systems.
For instance, new runners should consider having a few days of steady-paced running to work on your distance, progressing each week to a new, comfortable distance. As you progress, try running intervals where you run fast, then catch your breath with slower jogs or walks for a given time. A good place to start is to run fast for 30 seconds and walk or jog for one minute for 15 minutes.
With a warm-up jog and cooldown jog or bike, you can get a good 30-minute workout in and burn more calories than with a long, slower distance run. Another day can be devoted to learning what your mile pace is. If you want to run an eight-minute mile, practice 400 and 800-meter distances at the two-minute and four-minute pace, respectively. Then try to hold it for multiple miles as you progress with your distance.
Burn More Calories Than You Consume
If you want to maintain your current weight, the goal is to burn an equal number of calories that you consume, given that you naturally will burn anywhere from 1,500-2,000 calories a day, depending on your sex, size and age.
If you want to lose weight, the activity you perform each day needs to burn more calories than you consume. You can do this by adding more activity or reducing calories. Running is a great way to accomplish this daily burn. However, discuss reducing calories with a nutritionist or dietitian as you could be missing vital nutrients when reducing portion sizes or by getting on a diet that eliminates macronutrients (carbs, fat, protein). As we age, most of us need to do both as outworking your diet becomes more challenging once we get over 30-40 years old. Regardless of how you do it, good job and keep moving. See you on the trails.
Excerpted from the original article which can be viewed in its entirety at Military.com.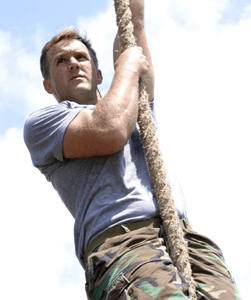 STEWART SMITH, USN, is a graduate of the U.S. Naval Academy, a former Navy SEAL, and author of several fitness books including The Complete Guide to Navy SEAL Fitness, The Special Ops Workout, Maximum Fitness, The S.W.A.T. Workout, and most recently The Navy SEAL Weight Training Workout and Tactical Fitness. Stew has trained thousands of students for Navy SEAL, Special Forces, SWAT, FBI, ERT, and many other military, law enforcement, and fire fighter professions. He is currently the Special Ops Team Coach at the US Naval Academy that prepares future candidates for SEAL, EOD, and MARSOC training and runs a non-profit called Heroes of Tomorrow where he trains people seeking tactical professions for free. Stew's new book, 101 Best Pyramid Training Workouts, is available wherever books are sold.