What if we told you that it's never been easier to prepare vegan food for your family? Enter Easy Vegan Home Cooking, which contains over 125 satisfying, simple-to-prepare, and healthy vegan and plant-based dishes including the one below perfect for the upcoming holiday season.
These quick-to-prepare, pretty "snowballs" are fun to serve at holiday time. A cross between a soft cookie and a truffle, I like to arrange them on a colorful plate, set them in the center of the table, and watch 'em disappear!
Date-Nut Snowballs
Makes 10 large truffles or 16 small truffles
Prep Time: 25 minutes / Refrigeration Time: 1 to 24 hours
Ingredients
2½ tablespoons unsweetened shredded dried coconut
2 tablespoons vegan confectioner's (powdered) sugar
½ cup pecan halves, roughly chopped
2 tablespoons maple syrup
12 large Medjool dates, pitted and chopped
Directions
Line a small, rimmed baking sheet with unbleached parchment paper. Put the coconut and sugar in a blender and process into a fine powder. Transfer the mixture to a small bowl and set aside.
Put the pecans, maple syrup, dates, and pumpkin pie spice, in the order listed, in a high-performance blending appliance and process (by pulsing) to the consistency of soft dough. (You will need to stop the blending appliance once or twice to scrape the sides down.)
Transfer the date mixture to a medium-sized bowl. (It will be very, very sticky!) Spoon out some of the date mixture, and roll it into a ball. Continue in this manner to form 10 large or 16 small "snowballs."
Roll each "snowball" in the coconut/sugar mixture until thoroughly coated and place it on the prepared baking sheet. Loosely cover and refrigerate for 1 to 24 hours. Stored in an airtight container in the refrigerator, "snowballs" will keep up to 4 days.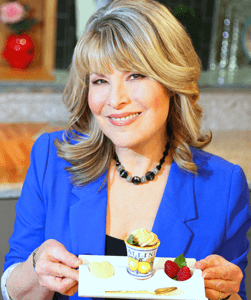 LAURA THEODORE is a nationally recognized television personality, podcast radio host, celebrity PBS vegan chef, and renowned jazz singer. Laura is co-creator of the highly successful Jazzy Vegetarian cooking series on national public television and she is host of the Jazzy Vegetarian Podcast on Unity Online Radio. Laura has made guest appearances on The Talk on CBS, Insider/Entertainment Tonight, and the WCBS Radio Health Report. She has been featured in the New York Times, New York Daily News, Mother Earth Living, VegNews, Family Circle, Readers Digest, and PBS Food, among other highly respected news, food and lifestyle-related journals as well as been on the cover of American Vegan. She is an award-winning cookbook author with such titles as Jazzy Vegetarian's Deliciously Vegan, Vegan for Everyone, and Easy Vegan Home Cooking.