What if we told you that it's never been easier to prepare vegan food for your family? Enter Easy Vegan Home Cooking, which contains over 125 satisfying, simple-to-prepare, and healthy vegan and plant-based dishes including the one below perfect for summer get-togethers!
Colorful and quintessentially classic, this spud-based salad is easy-to-prepare and a breeze to serve. With sweet pepper rings, baby potatoes, crunchy celery, and tangy olives, it's a delicious twist on a family favorite.
Confetti Potato Salad
Makes 8 servings
Prep Time: 50 minutes / Refrigeration Time: 2 to 4 hours
Ingredients
8 cups cubed red or white baby potatoes, cut in half if large, leave peels on
1¾ cups mini sweet red pepper rings (remove seeds and thinly slice before measuring)
1¼ cups diced celery, with leaves
½ cup minced green olives, with pimento
⅔ cup vegan mayonnaise
3 rounded tablespoons spicy brown or Dijon mustard
1 rounded teaspoon smoked paprika, plus more for garnish
¼ teaspoon saltSeveral grinds of black pepper
Directions
Fit a steamer basket into a large pot with a tight-fitting lid. Add 2 to 3 inches of cold water, and then add the baby potatoes. Steam the potatoes for 16 to 20 minutes or until they are fork tender. Spread the potatoes in a single layer on a large, rimmed baking sheet and let cool for 15 minutes. Cover and refrigerate the potatoes for at least 30 minutes before assembling the salad (see Chef's Note).
To assemble the salad, put the potatoes, pepper rings, celery, and olives into a large bowl and stir with a large spoon to combine.
To make the dressing, put the vegan mayonnaise, mustard, paprika, and salt in a small bowl and briskly whisk to combine. Pour the dressing over the potato mixture and stir to combine. Add several grinds of black pepper, to taste, and stir to combine.
Transfer the salad to a pretty serving bowl and sprinkle with more smoked paprika. Cover and refrigerate for 2 to 4 hours before serving.
Chef's Note: If preferred, you may steam, cool, and refrigerate the potatoes up to 24 hours before preparing this recipe.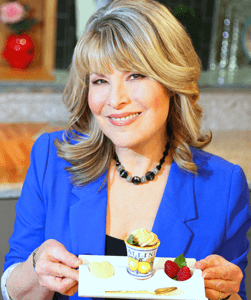 LAURA THEODORE is a nationally recognized television personality, podcast radio host, celebrity PBS vegan chef, and renowned jazz singer. Laura is co-creator of the highly successful Jazzy Vegetarian cooking series on national public television and she is host of the Jazzy Vegetarian Podcast on Unity Online Radio. Laura has made guest appearances on The Talk on CBS, Insider/Entertainment Tonight, and the WCBS Radio Health Report. She has been featured in the New York Times, New York Daily News, Mother Earth Living, VegNews, Family Circle, Readers Digest, and PBS Food, among other highly respected news, food and lifestyle-related journals as well as been on the cover of American Vegan. She is an award-winning cookbook author with such titles as Jazzy Vegetarian's Deliciously Vegan, Vegan for Everyone, and Easy Vegan Home Cooking.