What if we told you that it's never been easier to prepare vegan food for your family? Enter Easy Vegan Home Cooking, which contains over 125 satisfying, simple-to-prepare, and healthy vegan and plant-based dishes including the one below perfect for any time!
This is a delicious and filling salad to serve as a substantial main course or hearty side dish. The chickpeas and artichoke hearts provide substance, while the spinach and sweet peppers add color and crunch. It's such a beautiful dish to look at, too! Serve this pretty salad for lunch or a light supper.


Chickpea & Artichoke Salad
Makes 4 to 6 servings
Prep Time: 20 minutes / Refrigeration Time: 2 to 3 hours

Ingredients
1 can (14 to 15 ounces) chickpeas (garbanzo beans), drained and rinsed
2 to 3 ounces baby spinach, finely chopped
6 sweet mini peppers (or 1 medium sweet red or orange bell pepper), seeded and thinly sliced
1 can (14 to 15 ounces) water-packed baby artichoke hearts, drained and chopped
2 tablespoons extra-virgin olive oil
2 tablespoons maple syrup
2 tablespoons good-quality balsamic vinegar or freshly squeezed lemon juice
⅛ teaspoon smoked paprika (optional)
⅛ teaspoon garlic powder salt, to taste
Freshly ground black pepper, to taste

Directions
Put the chickpeas, spinach, mini pepper slices, artichoke hearts, olive oil, maple syrup, vinegar (or lemon juice), optional paprika, and garlic powder into a large bowl. Gently stir together with a large spoon to thoroughly combine. Taste, and add salt and pepper, as desired.
Cover and refrigerate for 2 to 3 hours to allow the flavors to develop. Divide between four to six bowls and serve.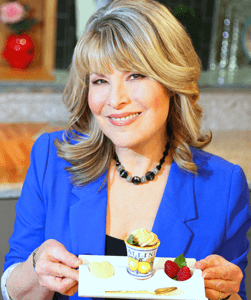 LAURA THEODORE is a nationally recognized television personality, podcast radio host, celebrity PBS vegan chef, and renowned jazz singer. Laura is co-creator of the highly successful Jazzy Vegetarian cooking series on national public television and she is host of the Jazzy Vegetarian Podcast on Unity Online Radio. Laura has made guest appearances on The Talk on CBS, Insider/Entertainment Tonight, and the WCBS Radio Health Report. She has been featured in the New York Times, New York Daily News, Mother Earth Living, VegNews, Family Circle, Readers Digest, and PBS Food, among other highly respected news, food and lifestyle-related journals as well as been on the cover of American Vegan. She is an award-winning cookbook author with such titles as Jazzy Vegetarian's Deliciously Vegan, Vegan for Everyone, and Easy Vegan Home Cooking.