Plant Based Cooking Made Easy is the exciting new cookbook from Jill and Jeffrey Dalton, the creators and host of The Whole Food Plant Based Cooking Show on YouTube. Plant Based Cooking Made Easy features over 100 life-saving, whole food plant-based recipes that are gluten-free, refined sugar & oil free, low in sodium, and full of scrumptious flavors. Enjoy a recipe featured in the book below!
This quick stir fry is my go-to meal when I just do not know what to make and don't want to spend a lot of time in the kitchen. I whip this up in 15 minutes and throw in whatever vegetables I have in the fridge to fill out the dish. You can serve it over brown or black rice or, if you don't want to wait around for rice to cook, just serve by itself since it is really just a big pan of tasty cooked vegetables.
Broccoli & Mushroom Stir Fry
Serves: 4
Prep Time: 10 minutes
Cook Time: 15 minutes
Ingredients:
4 cups broccoli
8 ounces sliced mushrooms
1 red onion, sliced
3 cloves garlic, minced
1-inch piece ginger, minced
2 carrots, shredded
1/3 cup cashews
4 tablespoons rice wine vinegar
3 dates
½ cup water
Light sodium soy sauce (optional)
Directions:
1. Turn burner on high heat.
2. Add a few tablespoon water to the pan.
3. Add the onions, garlic and ginger and sauté for a few minutes.
4. Add the broccoli, mushrooms, carrots and cashews and sauté for about 5 minutes.
5. While that is cooking add the rice wine vinegar, water and dates to a blender and blend until smooth.
6. Pour the sauce over the entire mixture and sauté for just a couple more minutes.
7. Add a couple tablespoons of low sodium soy sauce (optional).
8. Serve over rice or cauliflower rice.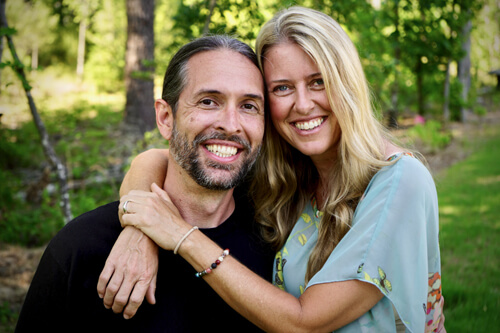 Jill Dalton & Jeffrey Dalton are the visionaries behind The Whole Food Plant Based Cooking Show, a YouTube channel and media platform. The couple knew, after making the switch to a whole food plant based diet and experiencing profound changes in their own health, they needed to share the power of a plant based diet with the world. Together over the past 5 years they have been creating the popular cooking show from their home kitchen in Cary, NC. The Dalton's original recipes, cookbooks, and courses have been used by millions of viewers the world over as they too make the switch to a plant based lifestyle. Jill hosts the show and shares her mastery for creating tasty and easy to prepare recipes that incorporate all of the leading research on plant based nutrition. Jeffrey works behind the scenes writing, designing, filming, producing, and supporting the technical aspects of the show.