Experts have long had clear evidence that exercise helps slow the progression of Parkinson's disease. This means that exercise holds great promise for people like me. When I was diagnosed with Parkinson's a few years ago, I learned that one form of exercise – non-contact boxing – throws a particularly powerful punch.  
It sounds counterintuitive to put a person with Parkinson's in boxing gloves and expect them to throw punches at a bag. After all, Parkinson's, a progressive disease that affects the nervous system, is characterized by slow movement, gait disorders and tremors. But the mix of high-intensity aerobics, balance, strengthening and stretching programs that a boxing class provides turns out to be just the right type of exercise for Parkinson's.
Why boxing?
Boxing workouts are good for your concentration and coordination, help with reaction times outside the gym, and can relieve stress. There is something very satisfying about using your body, particularly your torso and legs and arms, to rhythmically strike a heavy bag. A shared exercise class also helps you to meet others in similar circumstances.
The original boxing program for people with Parkinson's, called Rock Steady Boxing, was started in 2006 in a gym in Indianapolis. Classes focused on a non-contact, boxing-inspired fitness routine. Since then, the program has continued to grow and now Rock Steady Boxing affiliates have classes all over the world.
The gym I attend is Kimberly Berg's Rebel Fit Club, which includes a large Rock Steady Boxing program, in Tigard, Oregon. The gym has grown over time, and today there are over 350 fighters in 40+ classes a week all over the Portland Metro and SW Washington area, as well as virtual classes.
What you need to know
Like any exercise program, you will need to check with your doctor first. You will also need a knowledgeable boxing coach to evaluate you to make sure that you are not a falling risk or in danger of injury. If there is any concern, many programs also have entry-level classes that are tailored for a variety of modifications.
You'll need to have boxing gloves or a way to protect your hands; sometimes gloves are provided for you but many people prefer to bring their own. The classes are non-contact so you will not be punching anybody nor will anyone punch you.
What happens in a typical Parkinson's boxing class? You can expect some or all of the following activities:
Stretching and warm-up exercises
Doing cardio activities such as jumping rope and jumping jacks
Lifting hand weights
Footwork and other balancing exercises
Practicing proper techniques for throwing punches
Punching speed bags and heavy bags in different boxing combinations
Getting down on the floor for stretches and strengthening
Voice work
Cooling down
The role that community plays
One of the best aspects of finding a Parkinson's boxing gym is the opportunity to meet like-minded friends. There is typically a focus on socialization and community. For instance, the Rebel Fit Club that I attend has a Saturday morning women-only class. Afterwards, everyone is welcome to enjoy a cup of coffee together or to tune in for a virtual chat.
In addition to providing a good workout, boxing classes are designed to combat the tendency of people with Parkinson's to isolate themselves. Interaction with others – even when it's in a boxing gym – is essential to our overall wellness.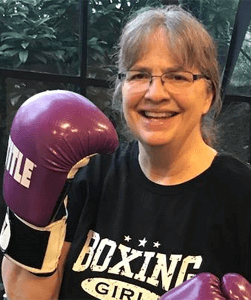 Nancy Peate is the co–author with Kat Hill of Being Well: Finding Joy and Resilience in Chronic Illness. She writes and speaks about wellness and how to live one's best life despite chronic illness. After working as a software technical writer, she returned to the classroom to get a master's degree in Library Science. A research librarian by profession, research topics of most interest include resilience and chronic illness, particularly Parkinson's disease. Nancy has participated and volunteered for the Parkinson's Resources of Oregon, the Davis Phinney Foundation, and the World Parkinson Coalition. She spoke at the World Parkinson's Congress in Kyoto, Japan in 2019 and hosts a monthly Parkinson's support group.