Getting consistent exercise is an integral part of living a healthy lifestyle. Right now though, some people are hesitant to return to the gym due to the Omicron variant. While others are having trouble making time to go to the gym.
If you're short on time or aren't ready to go back to the gym just yet, there are plenty of home exercises and workouts you can do at home. If you're budgeting, there's no need to spend extra money on exercise equipment. Lots of household items can substitute free weights or workout benches.
The below article will discuss exercises you can do in small spaces and alternatives to exercise equipment at home.
Alternatives to Exercise Equipment
The cost of home weights has dramatically increased since the pandemic began. Even worse, they're difficult to find online and in stores. No worries though. You can use these household alternatives. And even better, they're free!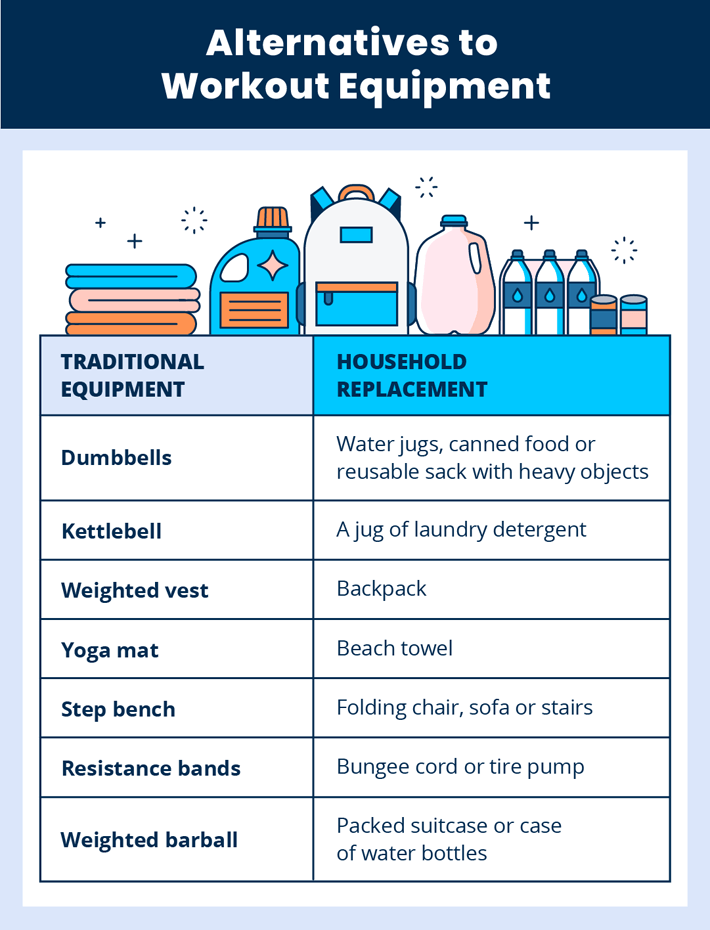 Dumbbells: If you need light weights, substitute your dumbbells with canned food. For heavier dumbbells, use liter, gallon, or five-gallon water jugs. You can also fill a reusable grocery bag with dried goods or books.
Weighted vest: Weighted vests are typically fairly pricey (anywhere from $50 to $150). A backpack filled with books or dried goods will suffice.
Bosu ball: A Bosu ball takes up a lot of space. For an easy alternative, use a firm couch cushion.
Slider discs: Slider discs help strengthen your stabilizer muscles. An inexpensive alternative is socks, a hand towel, or paper plates.
Step bench: You can supplement a step bench with a sturdy chair (not a rolling one), a sofa, stairwell, or an extremely sturdy chest. Use a variety of these alternatives depending on each exercise's height.
The Best Home Exercises
You can do the below exercises at home or when traveling and staying at a hotel. They're all fairly straightforward and will help to keep you in shape post-pandemic.
Military Press
The military press focuses on your deltoid or shoulder muscles. The secondary muscles worked are your triceps. For weights, you can use a weighted barbell, dumbbells, resistance bands, or one of the household alternatives. Here's how to correctly military press.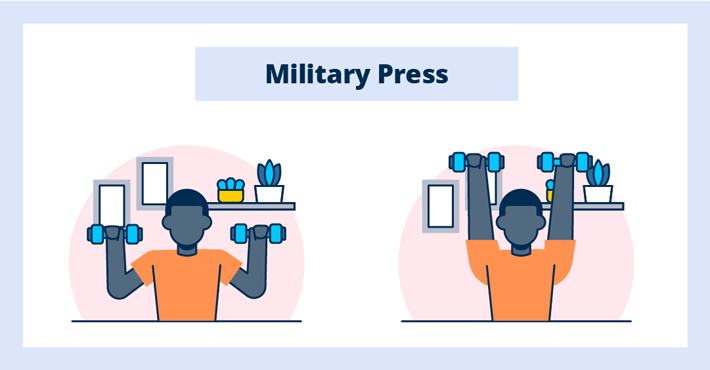 ● Step 1: Start either sitting in a chair or standing. If you're sitting, make sure that the chair's back is sturdy.
● Step 2: Next, lift the dumbbells so that they're even with your ears. Your elbows should be bent at a 90-degree angle and wrists firm.
● Step 3: Then, press the dumbbells up towards the sky while keeping your wrists forward. Your head should be in a neutral position.
● Step 4: Finally, slowly lower the dumbbells down in a controlled manner until your elbows hit a 90-degree angle again.
Dips
Dips target your triceps muscles and are a great way to activate stabilizer muscles in your chest and shoulders. They also activate your abs. You'll need an elevated surface such as a sofa, chair, or the edge of your bed. Here's how to do tricep-dips: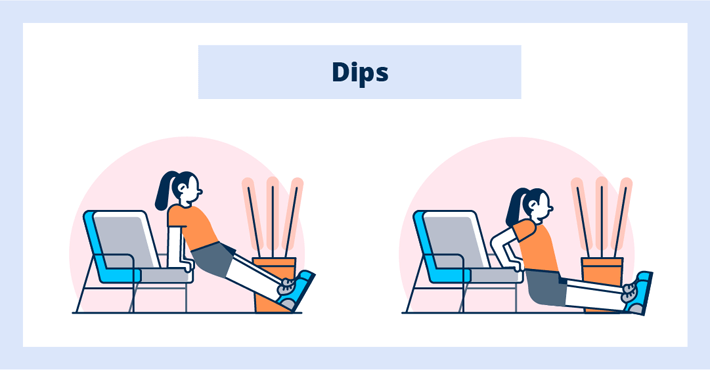 ● Step 1: Start by sitting on the edge of your bed, sofa, or chair.
● Step 2: Next, slowly extend your legs outward with your heels against the floor. Your body should be in a straight line.
● Step 3: Now, while keeping your legs straight and your hands firmly placed against the edge of your furniture, lower your body down. Your elbows should go to about a 90-degree angle. If any pain occurs stop and try again without going as low.
Bulgarian Split Squat
Think of this leg exercise as a single-leg squat with the other leg behind your body. The Bulgarian split squat emphasizes balance, helping to build and strengthen the stabilizer muscles in your leg. This exercise is also great at preventing dead butt syndrome.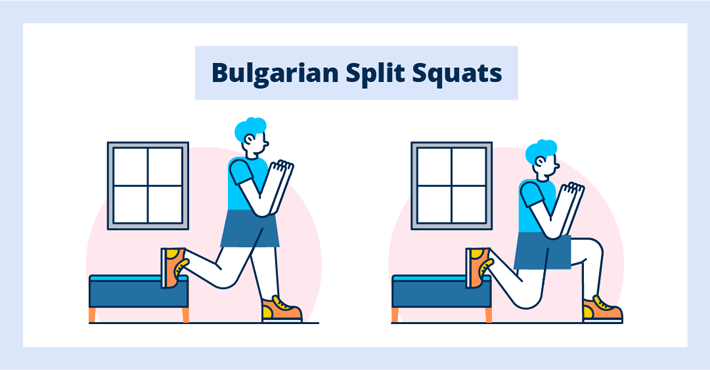 ● Step 1: Begin by standing one to two feet in front of a chair, couch or sofa. You want the elevated surface to be knee-level or slightly below.
● Step 2: Now, stretch one leg backward and place your foot on the elevated surface. You can either lay the top of your foot on the elevated surface or have your toes be the main point of contact.
● Step 3: Then, position your front foot to where you're balanced and can stand up straight.
● Step 4: Finally, lower your body until your front thigh is at a 90-degree angle to the ground. Your back knee should be near the ground, but not touching it.
When doing the Bulgarian split squat, make sure your front knee is not wobbling side to side. Also, don't lean back too far when squatting down, this will put a strain on your lower back.
If you want more quick and easy apartment workouts, view the infographic below from TurboTenant. There's also a section on ways to strategically store your workout equipment.