The ice-cream alternative that will wow your taste buds … Beautifully coloured with the alkalizing goodness of beetroot and flavoured with sweet banana, which has mildly alkalizing properties thanks to the high level of potassium present. This recipe is lovely on its own or scoop it onto Oat Crepes or Banana Flour Pancakes for an amazing healthy dessert (or breakfast!).
Banana Beet Nice Cream
Serves 3–4, preparation time 20 minutes (plus overnight freezing time)
Ingredients
4 medium bananas
1 medium beetroot/beet, peeled (3 tablespoons
/60 ml, when juiced)
2 tablespoons plant-based milk of choice
Directions
Peel and chop the bananas, place them in an airtight container and freeze them overnight.
The next day, juice the beetroot in a juicer and, if needed, strain the juice to remove the pulp. If you do not have a juicer, grate the beetroot and blend it with ¼ cup of water in a high-speed blender and strain to remove the pulp.
In a food processor, combine 3 tablespoons (60 ml) of the beet juice with the frozen chopped bananas. If the machine won't blend the bananas, add a little plant-based milk 1 tablespoon at a time, and blend until smooth. Do not over-blend or add too much milk as this will make it too runny. Scrape the sides and blend again.
Nice cream can be served as is as a soft serve, or for a firmer dessert place it into the freezer for 30 minutes before serving. Freeze any leftovers. To soften leftovers that have frozen overnight, allow to partially thaw for about 30 minutes before serving.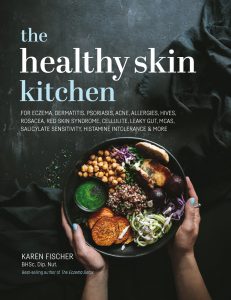 From the bestselling author of The Eczema Detox, Karen Fischer, The Healthy Skin Kitchen is an essential resource for anyone who wants beautiful skin, particularly people who struggle with eczema, acne, and other skin disorders. Full of gorgeous photography and nutritious recipes, it inspires readers to build and maintain a healthy lifestyle. The recipes are allergy-friendly and include vegan and autoimmune paleo options to ensure there are options tailored to a wide range of people.
Most skin health books use ingredients that are rich in salicylates and histamines, like coconut, avocado, fermented foods, etc. This book is the first to explode the myth that such foods benefit skin health. It focuses on low chemical foods that are truly healing for the skin. Readers will find methods to combat acne, allergies, dandruff, leaky gut, migraines, rosacea, and many more conditions. Of course, those without skin problems will also benefit from these accessible, nutritious recipes, designed to improve the wellbeing of all readers.
Karen Fischer is a registered nutritionist and founder of the support network Eczema Life. Her book The Healthy Skin Diet won 'Best Health, Nutrition or Specific Diet Book' at the Australian Food Media Awards. Over 20 years she has helped thousands of people to heal and reclaim their lives.