Starting a new school year and routine can be exciting, but it can also stir up a lot of emotions–for kids and parents alike! Here are two of my favorite mindfulness tools which you and your kids can use anytime to make a smoother transition and feel calmer.
#1: Five Senses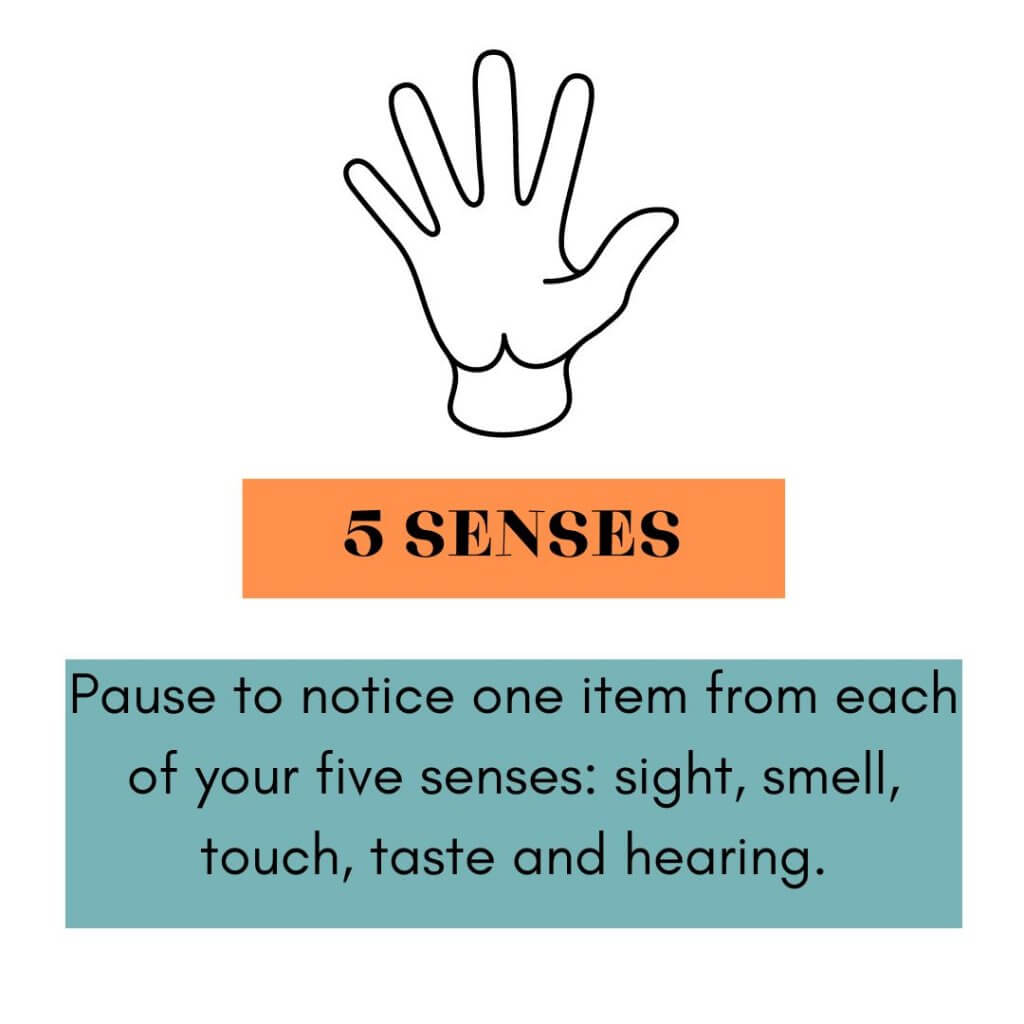 I absolutely love this technique as it is super simple and quickly shifts your focus from your thoughts to your body. Rather than getting caught up in whatever story is on replay in your head, this technique draws you back to the present moment and engages all of your senses.

To play, simply stop and notice one thing around you with each of your five senses: sight, smell, hearing, taste, and touch. For example, if your child is nervously waiting at the bus stop, she might notice…
Sight – clouds floating in the sky
Smell – the fresh cut grass
Hearing – children talking
Taste – minty toothpaste
Touch – their backpack in their fingertips
If you are nervous before a big meeting, phone call, or presentation, you might notice…
Sight – a conference room full of people
Smell – the aroma of coffee in the air
Hearing – the fast pounding of your heartbeat
Taste – a sour taste in your mouth
Touch – sweat starting to form on your body
As you notice each item, see if you can also slow your breath. You can place your hand on your heart and even say a short mantra like, I breathe in peace, or your kids might say something like, all is good. See if you can bring a smile to your face. And above all, be okay with however you are feeling, knowing that it too will pass.
We've played this game in the airport, out on a hike, at the dentist office, before tests, and more! I love equipping my kids, my readers, and myself (!) with as many different mindfulness tools as possible. This way we can have a range of things to choose from in the moment.
Knowing that emotions are normal and that it is okay to feel whatever comes up, can help us all move through and regulate how we are feeling!
#2: Five Finger Breathing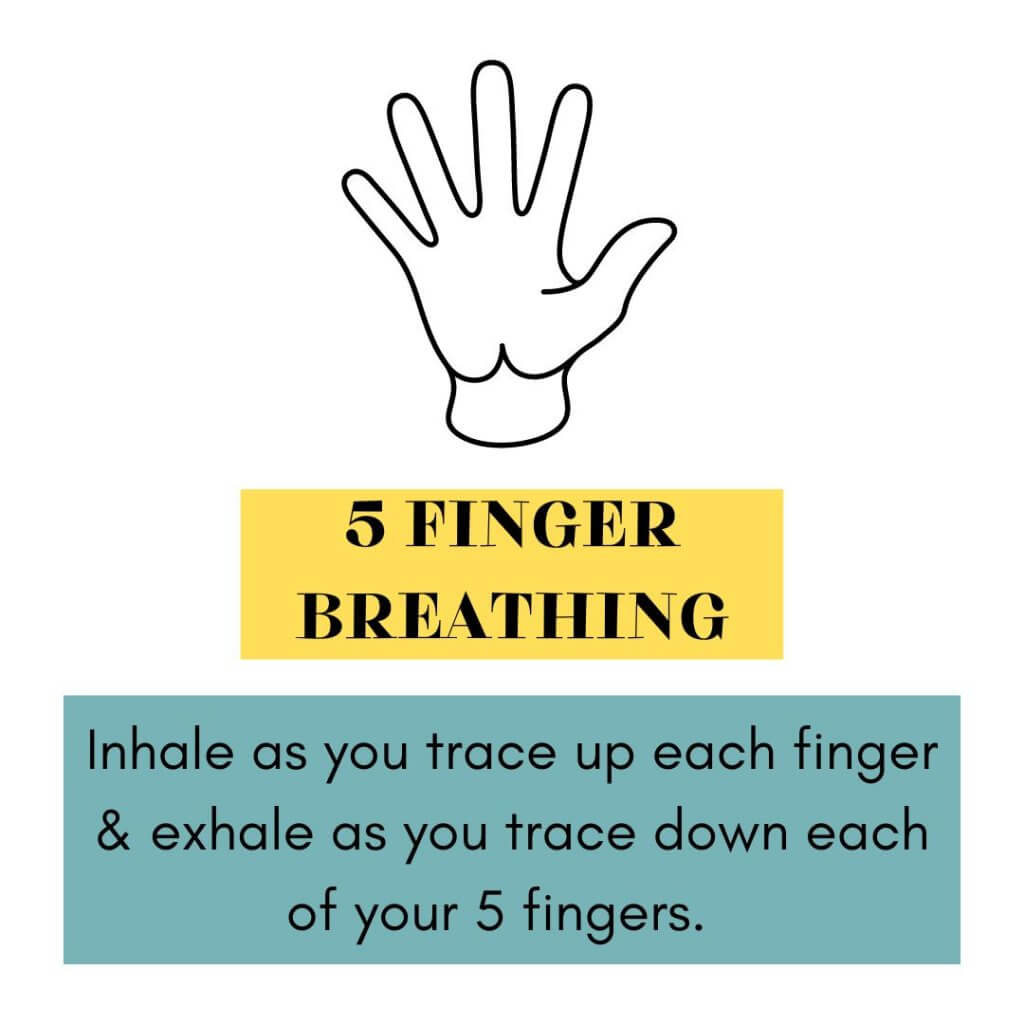 Another easy yet powerful tool to ease the back-to-school transition is five finger breathing. To play, hold up one of your hands with your palm facing you. Using your index finger from your other hand, trace up your pinky finger as you slowly inhale. Then trace down your pinky as you slowly exhale. Repeat for each of your fingers for a total of five breaths.

You can always continue if you'd like, but just by stopping to trace these five breaths you will have slowed your nervous system to help re-engage your parasympathetic nervous system. Whenever you or your child notice that you are getting a bit geared up, I always recommend pausing and taking a breath with a long exhale! This helps your body feel more relaxed.

Another thing I love about this game is that even if you can't trace your fingers- for example your kids are in the middle of class or you are in the middle of a meeting, you can visualize it, or at the very least take five slow deep breaths in and out.
Own Your New Superpower!
The breath is an underrated yet amazing tool that we have at our disposal. I often joke with my boys that our breath is our superpower! It can be used in so many ways, to get your energy going, help calm you down and more.

Interested in more fun tools and games that help teach emotional regulation and other important life skills? Check out my new book, Play Together: Games & Activities for the Whole Family to Boost Creativity, Connection & Mindfulness, for over 60 screen-free, entertaining and educational games. Play on!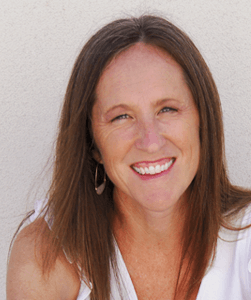 Laura Haver is a play, happiness and communication expert, author, speaker and life design coach. She has helped hundreds of individuals and families to experience more play, growth and inspiration in their lives. Laura is the founder of Author Moms (a community that connects, supports and inspires fellow writing moms) and Alchemy of Fun (a community for busy women who want to bring more fun, fulfillment and magic into their lives). She has been featured on the Today Show, CBS, Fox and more. She has over 25 years coaching experience in leadership, life design and tennis (for both children and adults). Laura lives in San Diego with her husband and two sons. Visit laurahaver.com for more information.