When most of us hear the word "chia," we think of the novelty plants that were popular in the 80s. But lately, chia has been gaining super food status in the culinary world because of its numerous health benefits. Chia is actually an ancient seed native to South America and has been a staple in Mayan and Aztec diets for centuries. It has a mild flavor and is available in black or white seeds. It can be found in specialty food stores or health food stores.
Chia seeds have a similar nutritional profile to another super food- flaxseed. Head to head, chia seeds actually have even more omega-3 fatty acids, fiber and antioxidants than flax. And unlike flaxseed, chia seeds can be digested whole and don't have to be ground. They also have a longer shelf life.
Why should you add chia seeds to your diet?
Chia is one of the most concentrated sources of omega-3 fatty acids of any food, even more than salmon. Omega-3 fatty acids are essential compounds that our bodies need to function. Because we don't naturally produce omega-3s, we must get them from our diet. Omega-3s have been shown to have incredible health benefits. They reduce the risk of death from cardiovascular disease and also are important for neurologic development. They also work to reduce inflammation and may improve symptoms in diseases such as arthritis and asthma.
Chia seeds are an excellent source of fiber, with almost 11 grams in an ounce. That's 42% of the daily recommended intake of fiber per day. Most Americans don't get enough fiber in their diets. A diet high in fiber has several health benefits including helping to reduce cholesterol levels, regulate blood pressure and promote heart health. Fiber also helps to regulate blood sugar levels and is really important in maintaining bowel integrity and regularity.
Chia seeds are also rich in antioxidants, which help protect the body from free radicals, aging and chronic diseases. They also are a good source of protein, calcium and several other vital nutrients like manganese, phosphorus, and magnesium.
Chia seeds may also help curb your appetite. Chia absorbs about 10 times its own weight and expands in your GI tract. The gelling action in combination with the protein and fiber all contribute to their satiating effects.
Whole chia seeds can be sprinkled on cereal, salads, and yogurt. It also can be stirred into hot soups, stews and pasta sauces. The seeds can be ground and mixed into smoothies or added to baked goods. The seeds can also be sprouted and used in salads or sandwiches. When the seeds are soaked in water, they form a gel, which can be used in puddings and jams. It can even be used it as an egg substitute. To get started, try my recipe for Almond Chia Pudding with Raspberries. It's a healthy dish to start your day and the best part is that you can assemble it the night before.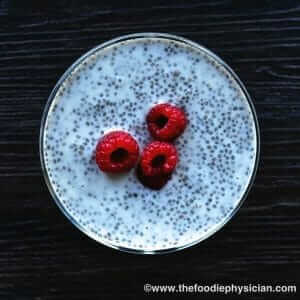 Almond Chia Pudding with Raspberries
Makes 2 servings
One serving: Calories 210; Fat 6g (Sat 0.5g); Protein 11.9g; Carb 27.3g; Fiber 8g
Ingredients:
3/4 cup unsweetened almond milk
3/4 cup nonfat or low fat plain Greek yogurt
3 tablespoons chia seeds
2 tablespoons maple syrup or other sweetener of your choice
½ teaspoon vanilla extract
½ cup raspberries
Optional topping: sliced almonds
Directions:
Place the almond milk, yogurt, chia seeds, maple syrup and vanilla in a bowl and stir until combined. Alternatively you can pour the ingredients into a mason jar or other container with a lid and shake until ingredients are combined. Let the mixture sit for 15-20 minutes (the seeds will sink to the bottom), then stir it again. Place the container in the refrigerator and cool overnight. The mixture will thicken. When ready to serve, divide the pudding into two bowls and garnish with raspberries and almonds, if desired.
DR. SONALI RUDER is a board certified emergency medicine physician, recipe developer, blogger and bona fide foodie. In 2007, she entered a recipe contest on a whim and ended up being selected from thousands of entrants to compete on a cooking competition on the Food Network. In 2009, Sonali decided to take her passion for cooking one step further by enrolling in culinary school at the Institute of Culinary Education. While she was a student, she started her popular food blog The Foodie Physician where she uses her medical and culinary backgrounds to help readers create meals that are nutritious and full of flavor. In addition to practicing medicine, Sonali also develops recipes and is a contributing writer for several national magazines, cookbooks and websites. She is the author of The Greek Yogurt Diet and Cooking Well: Anti-Aging.