An integral part of "being well" for me means fueling myself with healthy foods. This year, my husband and I have set out on the road for an adventure, traveling across the country in our 27-foot Airstream travel trailer. This has meant learning new routines for everything including meal preparation and planning.
Managing my health also means timing meals and medications carefully to manage my Parkinson's disease. We try to eat at consistent times whenever possible. This keeps us from getting overly hungry (or hangry) and also keeps me on track with medication dosing.
Both of us love to cook and we also love to eat out. Sampling the cuisine at all of the locations we travel to is part of the fun of experiencing life on the road. However, eating out too often can be both expensive and too much intake to maintain a healthy weight for us. With that said, here are some of our tips to finding a good balance:
#1 – Keep lots of fresh produce on hand
We eat a fresh salad every day and keep on hand nuts, legumes, and other lean proteins to supplement with. If we had a big lunch out seeing the sights, we will almost always have a salad for dinner.
#2 – Plan meals out
We do not eat out more than 2-3 times each week. When we plan our day, we are careful to either take a meal if we will be out for an extended time or find our way back to camp to prepare dinner (even if it is a quick salad).
#3 – Prepare extra food when possible
We try to grill outside at least once a week; it is certainly part of the fun of being on the road. When we do, we prepare at least 2 other helpings to eat later in the week.
#4 – Have quick prep meals on hand
Some ideas include bag salads, cauliflower crust pizza, left over grilled proteins to add to a salad, sandwich bread and fruit.
#5 – Stock grab-and-go foods
We stock our small pantry with easy to grab foods so we can easily pack up snacks for the day. We also have insulated travel cups with lids to keep our beverages hot or cold for our adventures.
#6 – Shop the perimeter
Part of life on the road is shopping at new stores all the time. Grocery stores all over are similarly laid out and we find the healthiest choices are ALMOST ALWAYS on the perimeter. It saves time and impulse buys to stay to the perimeter.
#7 – Avoid processed foods
We try to buy foods with ingredients we can pronounce and which have few ingredients. This was our routine in our sticks-and-bricks home and has carried over to our life on the road.
I hope these tips help you on your next adventure. We have found a rhythm to our meal preparation and planning out on the road and have even lost a few pounds along the way. The fresh air, being active and eating well are making for a lifestyle we are enjoying and thriving in.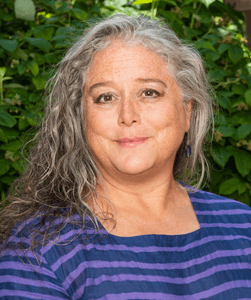 Kat Hill is the co–author with Nancy Peate of Being Well: Finding Joy and Resilience in Chronic Illness. She has a degree in Public Health, Nursing and Midwifery. She has worked as an educator and nurse, but after her diagnosis of young onset Parkinson's Disease, she has devoted her time as an advocate for persons with chronic illnesses. Kat is an Ambassador for the Davis Phinney Foundation and sits on the patient advisory committee for the World Parkinson Coalition. She spoke at the World Parkinson's Congress in Kyoto, Japan in 2019. She has a podcast, PD Lemonade, that focuses on wellness and resilience.