Recently, my 7-year-old son woke up at 3 am and said he'd had a nightmare. He was physically shaking and when I asked why, he said he was afraid. After much comforting he told me that he'd watched a scary video on his friend's phone on YouTube. He could not tell me more other than it was about a smiling boy and then something happened to the boy. I comforted him for more than an hour before he could fall asleep but it left me wide awake and with yet another perspective on digital well-being.
In this digital age, where the internet plays a significant role in our lives, it has become crucial to monitor and control the content our children are exposed to online. As parents, it is our responsibility to safeguard our young ones from inappropriate and distressing content.
Below, I will discuss five essential tips to ensure a safe and positive digital experience.
1. Establish Open Communication and Educate
Creating an environment of open communication is vital to understanding what our children are exposed to online. Encourage your child to share their online experiences and feelings, without fear of judgment. By fostering an honest and supportive relationship, you can address any concerns promptly and help them process any distressing encounters they may have had online. Talk to them about how and why content is created online, how everything is not real, that the Internet has many great things but can also be a source of danger for adults and kids alike, discuss what positive and negative experiences they've had.
2. Utilize Parental Controls and Content Filters
Most devices and online platforms offer parental control features and content filters that allow you to restrict access to age-inappropriate content. I've historically been in two minds about this but as it is so easy to accidentally come across age-inappropriate content it can be worthwhile to take advantage of these tools to safeguard your child's online experience. Setting up content filters can significantly reduce the chances of them stumbling upon frightening or inappropriate material, giving you peace of mind.
3. Monitor Screen Time and Usage
Limiting screen time is essential for your child's overall well-being and ensures they have a healthy balance between online and offline activities. Set specific time limits for screen usage, including smartphones, tablets, computers, and TVs. Encourage other activities such as outdoor play, reading, or engaging in creative hobbies, which promote a more balanced and diverse development.
4. Recommend Age-Appropriate and Educational Content
Guide your child towards age-appropriate and educational content that aligns with their interests. There are numerous platforms and channels that provide entertaining and informative videos suitable for young audiences. Curating a list of approved channels or websites can help steer your child towards content that is both engaging and safe. Follow guidelines like 13y+ for most social media platforms and limited screen time as per below, surprising I know!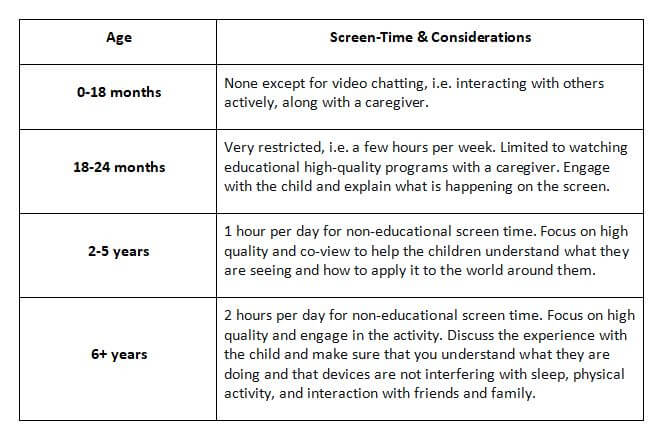 5. Watch Content Together
Whenever possible, watch content together with your child. By doing so, you can identify any potentially distressing or inappropriate material in real-time. This also presents an opportunity to engage in meaningful discussions about what they are watching, allowing you to reinforce positive values and critical thinking skills.
The incident involving my 7-year-old son's encounter with a YouTube video and its aftereffects, underscores the importance of taking proactive measures to control the content our children access online. As parents, it is our responsibility to create a safe digital environment that nurtures their emotional well-being and fosters positive learning experiences. Being actively involved in our children's online activities is the first step towards ensuring a safer and more enjoyable digital experience for them.
For more tips on responsible tech use and similar topics, check out my book Tech-Life Balance: 101 Ways to Thrive in a Digital World.
Taíno Bendz is the founder of Phone Free Day and his own consulting business, and his message on mindful and intentional technology usage has reached and inspired hundreds of thousands of people around the world. He is a public speaker, workshop facilitator, and conducts research on digital technology usage. Taíno holds a Master's Degree in Industrial Engineering and Management and has spent the last 10 years working in technology sectors such as renewable energy, healthcare IT, and software automation. He currently lives in Sweden with his family. He is the author of Tech-Life Balance.